Top 10 Best Bars In Marrakech
Marrakech, Morocco house more than fifty bars and nightclubs where you can go enjoy wines, range of cuisines, and eclectic environment. While, most bars serve dishes that are centered around very old Moroccan cuisine, they also contain sumptuous dishes from Asian, Italian, Mexican, European cuisines. After night falls, there is no reason for the excitement to end; the Red City has heaps of great clubs and bars to keep you out until the little hours.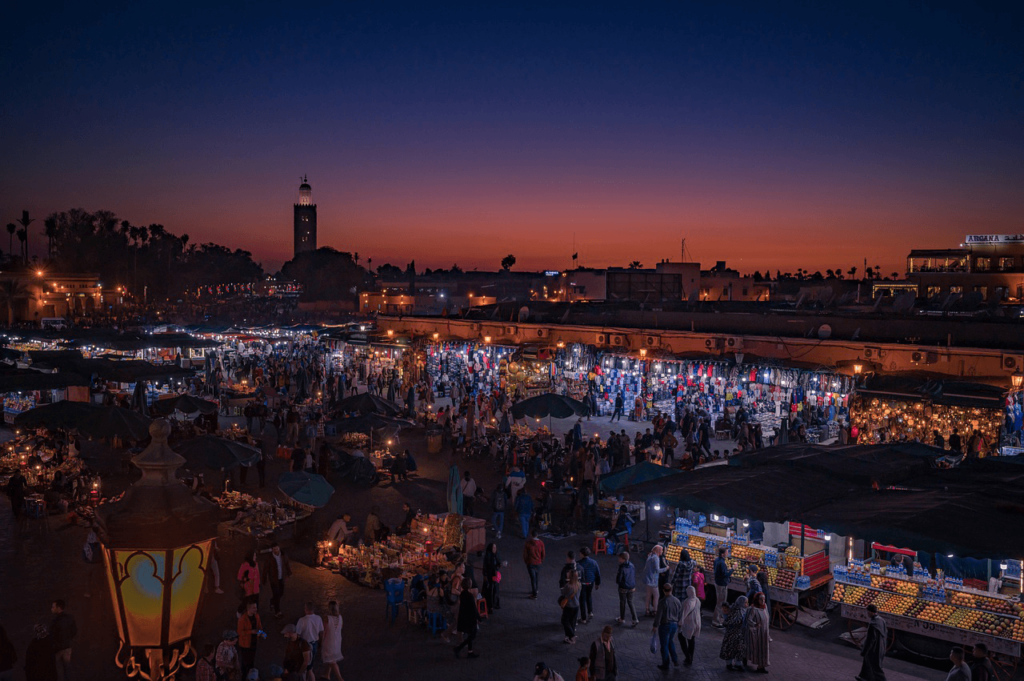 Here we highlight 10 of the best Marrakech Bars
1) Le Grand Café de la Poste
Placed in Guliez, Le Grand Cafe de La Poste specs Moroccan decoration gathered with the bistro spirit of the last century. The restaurant has a hot design, copper-studded wooden chair and marble countertops.
This dynamic best rooftop bars Marrakech turns into a more intimate one with jazz music, soft lighting, and candle lit dining tables in the evening. The staff in the cafe was expert and friendly. The cafe has a perfect lounge where you can go for a cigar.
2) Cafe clock
From salads and sandwiches to the signature camel burgers, the cafe serves lip-snacking snacks. Its menu mixes Moroccan taste with exotic dishes. The portions are satisfying and relax.
This cross-culture zone organizes different events across the week that locals and visitors enjoy together. If you are around the cafe, check on its calendar and you will find something of your interest, be it quiz, music concert, or storytelling night.
3) Dar Anika
This charming raid is placed in Arset La Maach close to the Mellah Plaza. It is remarkable place for a romantic nightcap or day drinking on their rooftop level. The staff is extremely friend and if the owner is around he will pass by checking on his guests to ensure they feel attended to and are enjoying the best Marrakech bars.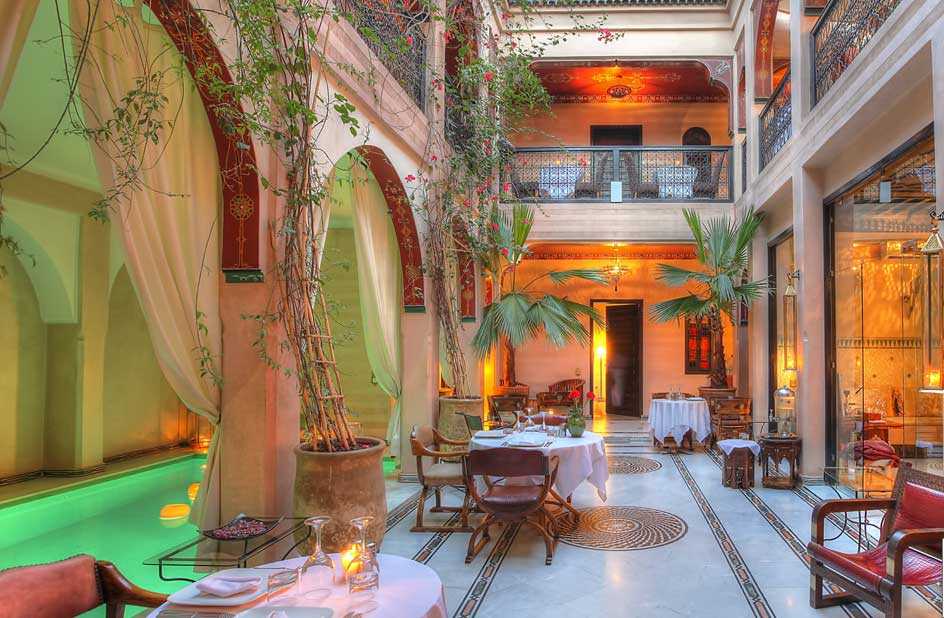 4) Kosy Bar
Kosy Bar is tucked into the side of Place des Ferblantiers, a cozy place overlooking the square below. The cafe provides a wonderful view of stork nests on the walls of El Badi Palace. Its dark hallways and urban downstairs make a hot and luxurious welcome for its guests.
During the day, the Kosy bars Marrakech serves only soups, sandwiches, and salads. Anyway, there is more on the menu in the evening. You can order Moroccan dishes including tajines and lamb alongside Asian cuisine.
The bar turns romantic and more hot at night. The lounge music and soft lighting set the hot atmosphere.
5) Mama Afrika Marrakech
Mama Afrika is the most famous bars in Marrakech. Its tribal decoration and reggae music provides you some serious African vibes, which is difficult to find elsewhere in the city.
The tempting menu of cocktail, fruit juices, and warm beverages. Anyway, the food choices at the restaurant are limited to ice-creams and sandwiches. The portions served are sweet and are served by friendly staff.
The rooftop bars Marrakech and cafe has some dynamic non-alcoholic drinks and makes remarkable alternative to the bars in the neighborhood.
Mama Afrika is a must-try restaurant and bar in Marrakech. It opens seven days a week. It opens every day and runs from eight in the morning until late.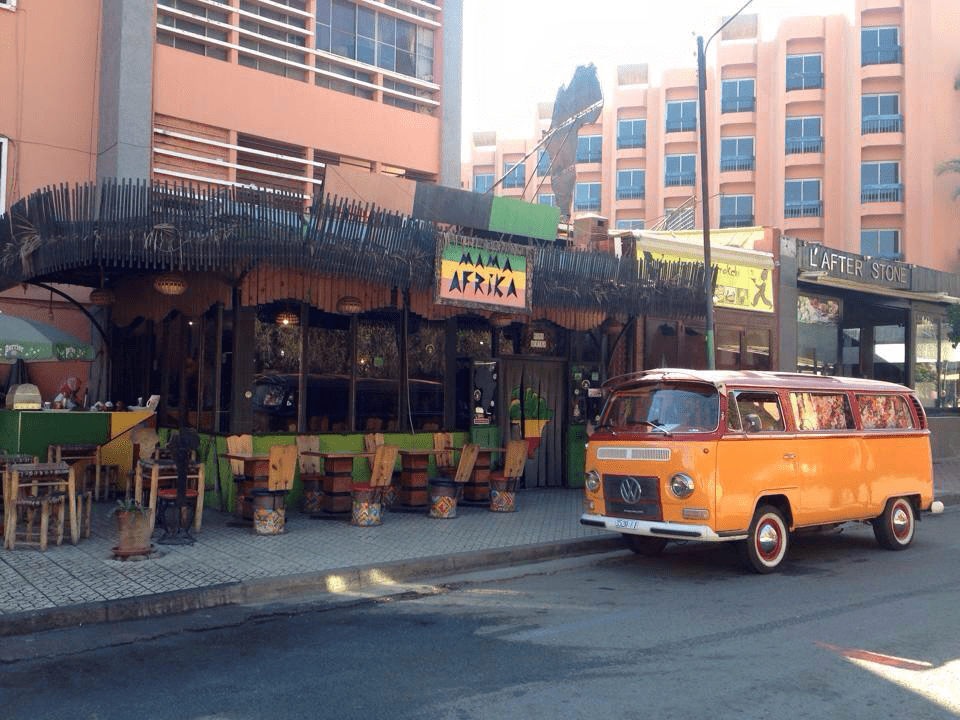 6) 555 Famous Club
Although fairly little, 555 Famous best Marrakech bars and club packs a punch when it comes to the fun decoration. The expense prices are value it for people who love to view and be seen; it attracts the world jet set celebrities, and affluent locals. The music is diverse, with hip hop, pop, dance tunes, RnB more. There are continue promotions whereby women's can drink for cheap or free, helping to keep costs down. Food is served, though most people go here for the clubbing drinks and wines. It is one of the famous rooftop bars Marrakech.
7) Pacha
Part of the internationally famous chain, Marrakech Pacha is placed near to the Agdal Gardens along the busy path Mohammed VI. Open each night of the week, it is busiest at weekends, attracting locals and visitors alike. Open until late each night, the bar and club can fit up to three-thousand people at any given time. It regularly hosts guest DJs in addition to the resident DJs. Part of a bigger resort, the complex also has a pool and a restaurant & bar in addition to the popular club. Be sure to dress to impress to reject being turned away at the door.
8) Sky Bar
There are few excellent rooftop bars Marrakech than the wonderful sky bar. Perched atop the Renaissance hotel, the bar is usually extremely busy. Food is accessible as well as drinks, and sunset is particularly famous time to visit. Offering sweeping views over Marrakech, with many wonderful sights visible in the skyline, it is among one of the most romantic places in the city for a sundowner. On a cloud-free day you should be capable to view all the way to the peaks of the Atlas Mountains. If the temperatures are bit too hot for your liking, you can sit indoors in air-conditioned relaxation.
9) The Lotus Club
With a red-carpet entrance, you better come dress to amaze as Lotus bring fun and class to the table with its candles-lit bars in Marrakech and relax yet-lively atmosphere. The Hivernage-based provides cabaret performances every night with new pop playing in-between shows – you might even be welcomed by occasional magician all through the night whose card tricks will shock your mind. Lotus also has an open-air lounging area, where you can go to relax, take a break from buzz inside or order a shisha. Lotus is one of the famous rooftop bars Marrakech, and for best reason, so booking ahead is powerfully advised.
10) SO Lounge
Placed by the big Sofitel hotel in the Hivernage, SO lounge has grown exponentially famous due its successful mixture of a chilled-out lounge and a stunning club. With a clean-cut contemporary design and an art, spacious layout, SO lounge is best for a relaxed shisha outside before dancing the night away within a big range of wines, cocktails and beers. The environment is young and trendy, and the music varies from live bands to modern pop, making it must if you are planning on enjoying the night life of Marrakech. I highly advise if you are with a group and looking for a best night out!