Top 10 Best Restaurants in Kampala, Uganda
Kampala is a busy city packed with a lot of businesses from shopping malls to hotels, restaurants it being the Uganda capital city. Over the years we have seen many best restaurants in Kampala being set up by either the foreigners or local people and they have become a booming business within the city center.
Ugandans love food and they are willing to almost flavor everything from domestic food to international cuisines like Coastal, Asian, and Italian food all served in the same place.
There are several best restaurants in Kampala and they all have a best status when it comes to service, the sanitation and food. Since they are the best at what they perform, you will find that they are a bit crowded at times but still provide the best.
Here we highlight the top 10 best restaurants in Kampala, Uganda:
1) Cafe Javas
Cafe Javas is a complete service, casual coffee-themed chain best restaurants in Kampala. Placed in the most perfect place, Cafe Javas offers a safe haven from the busy days shopping or break from the office. Its high standard customer service keeps bringing customers back in throngs, leading you to think every person in Kampala dines at Cafe Javas. It is also famous for its sweet portions at amazing prices.
If you pick to have your birthday dinner/lunch at cafe javas, you just need to inform the manager and the staff with sing for you a birthday song with charming sounds of drums, an experience that cannot be found anywhere else.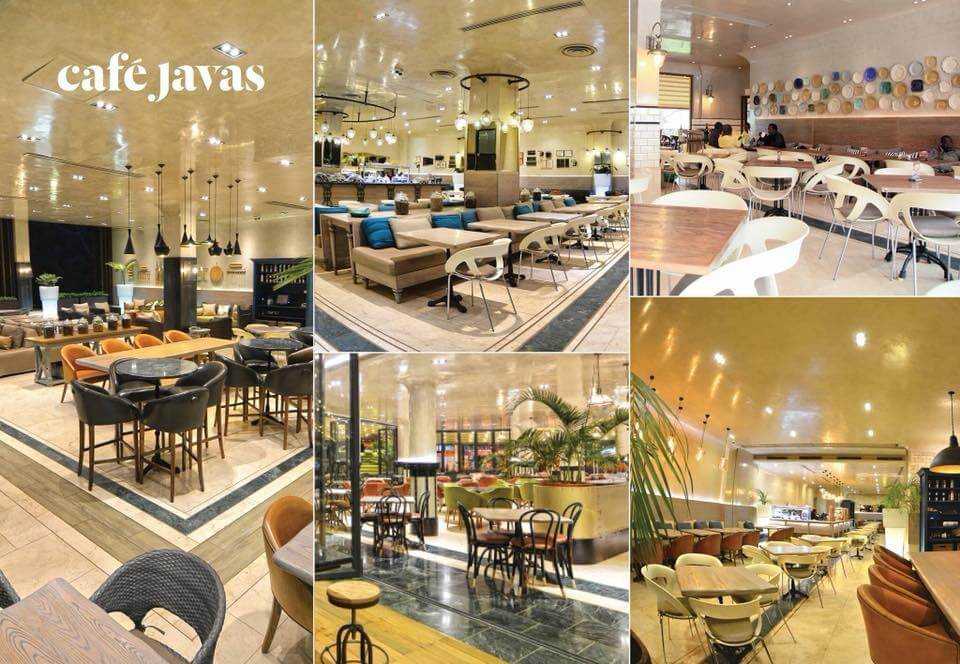 2) 2K Restaurant
2K Restaurant is a premium eatery providing a completely special and perfect dining experience centered on Ugandan food. There is no doubt about the fact that this best restaurants in Kampala 2020 leads the pack when it comes to Ugandan food. Focusing on natural and fresh flavors, top standard produce, and expert method outcomes in extraordinary food that is unpretentious but charming and tasty. If a step away from the norm is something you are looking for, dine at best vegetarian restaurants Kampala for real Ugandan food experience.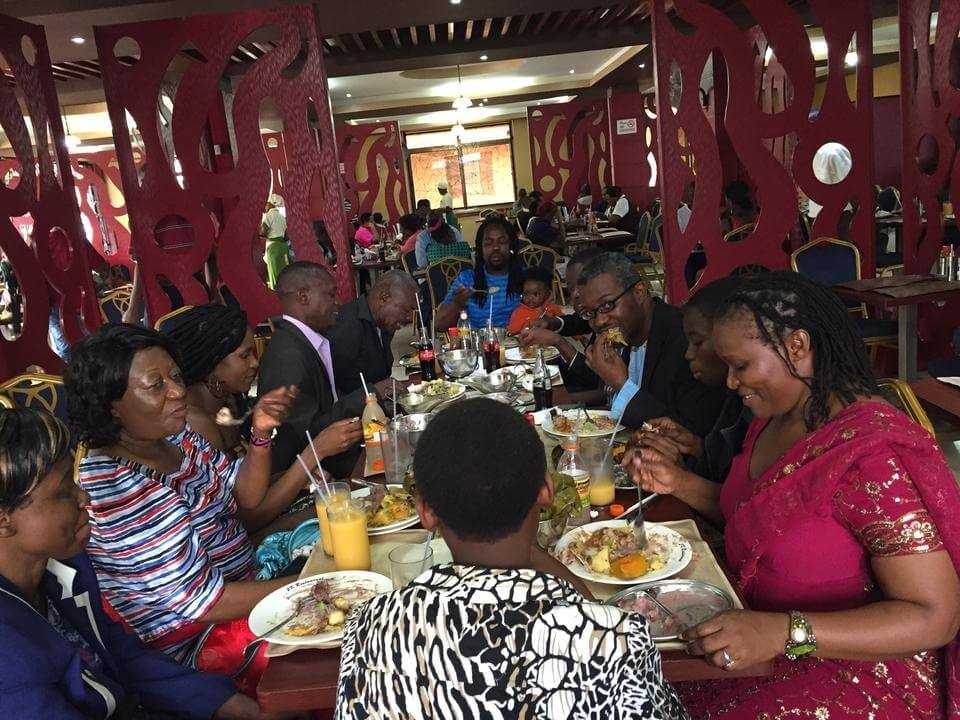 3) The Piato Restaurant
The Piato Restaurant is placed within the heart of Kampala on plot 20, Lumumba Avenue in Nakasero.
Piato has one of the top grilled foods in Kampala and as their slogan advises "The King of the grill", it serves its objective. The service from the waitresses and waiters is at a peak and they make you feel at home when it comes to the hospitality and food and you can either pay using a cash or visa card.
The best restaurants Kampala gives off a romantic feel for those who want to dine as couples by providing you exclusive privacy and it is also a best location to commute with friends for an evening.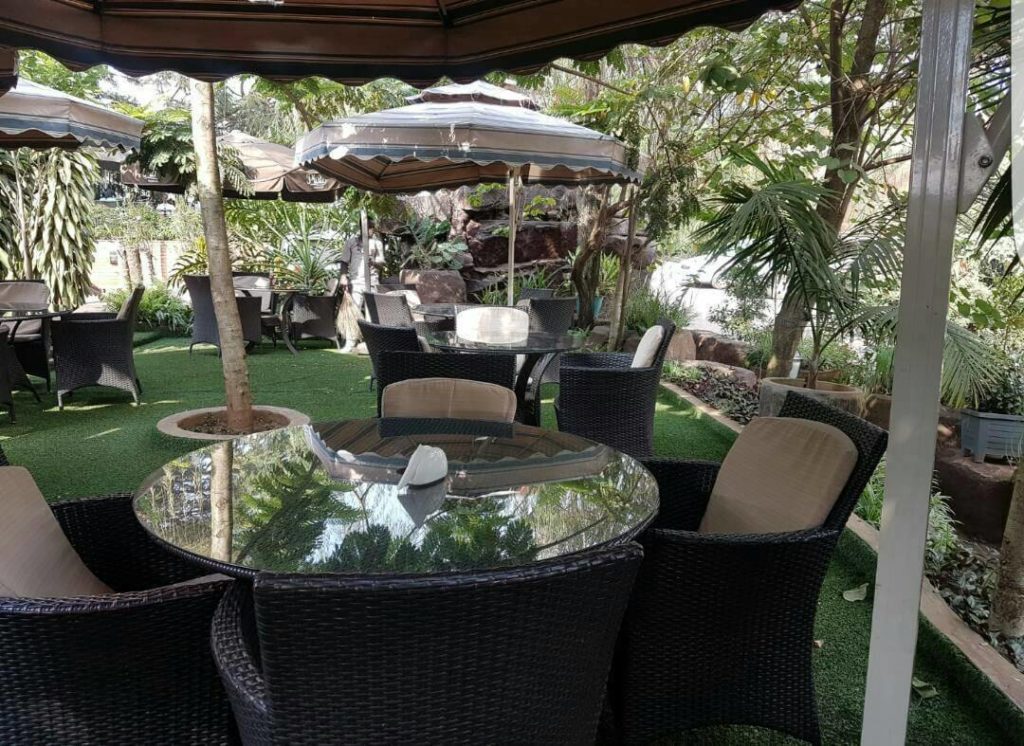 4) Shaka Zulu
Placed in Bugolobi Kiswa road, Shaka zulku ranks as the top when it comes to customer care and delicious foods in Kampala. A few minutes' drive from the city center, it provides you a serene place where you can rest away from chaos of the city and the busy roads.
It provides a big range of food from the different parts of Uganda like matooke, millet bread, rice, potatoes, cassava, and food from other countries like steak, pizza, and they also do deliveries once you order food through internet or by making a call to their restaurant.
They also have local dishes like Luwombo for meat, fish, chicken, ground nuts all at their best and the beauty about dining from Shaka Zulu restaurant is that once you arrive, you are offered a jug of juice even before you begin ordering for food.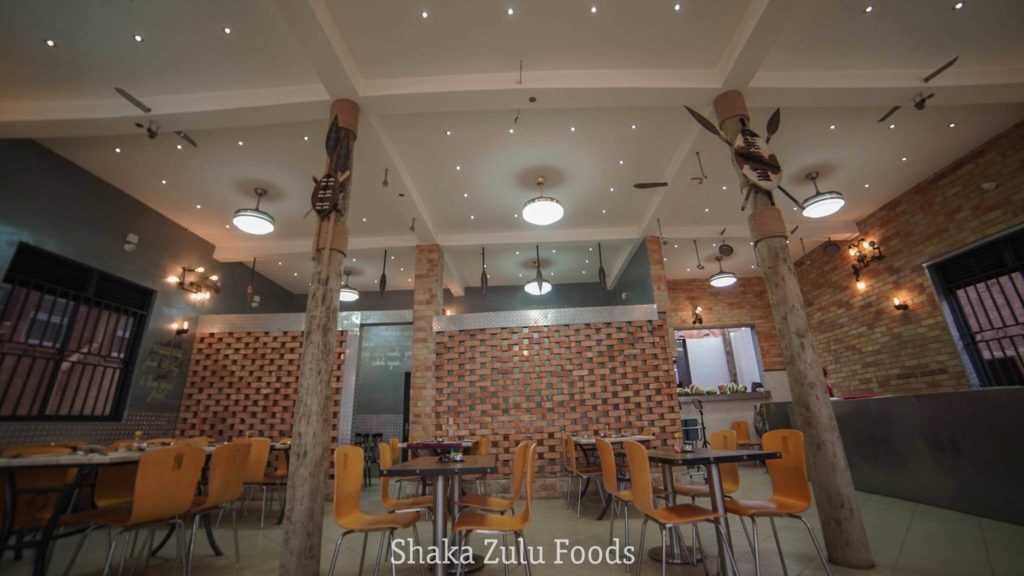 5) Cafesserie
Placed at Acacia Mall is this sophisticated best restaurants in Kampala with a view that has made dining a remarkable experience in the busy area of Kisementi. Caffeserie is one of the many Italian best restaurants in Kampala that has made a name for itself as the best at what they do. Cafesserie is also famous to have one of the top ice creams in Kampala. It can get super busy in the evening hours over the weekend, so be sure to arrive early to reserve your spot.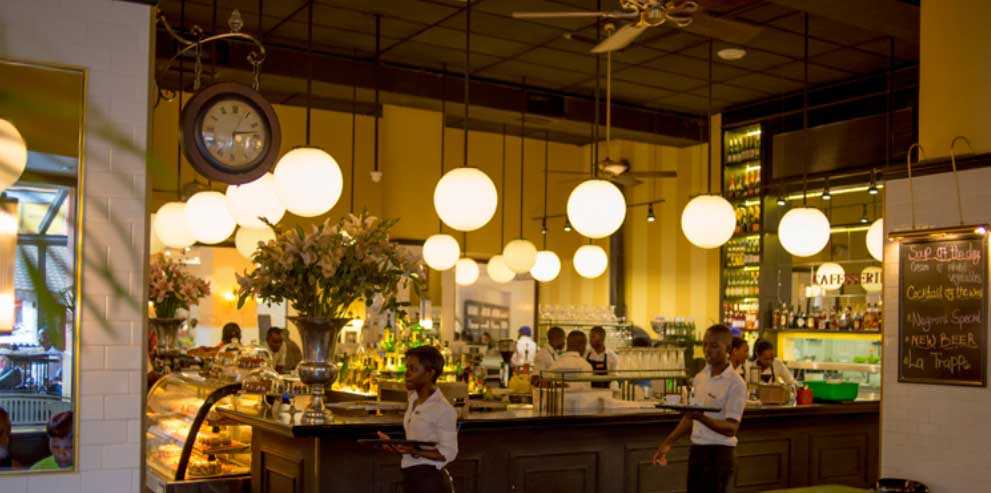 6) La Chateau
This is such a charming and exquisite Belgian restaurant best for families or individual dining. The open-air areas of the restaurant offer the tranquility that cannot be found at any other restaurant in Kampala.
La Chateau is one of the few best restaurants Kampala. It serves a big range of tasty dishes perfectly handcrafted by their expert chefs with either unlimited soft drinks, unlimited sparkling wines or unlimited house wines depending on the package you opt for.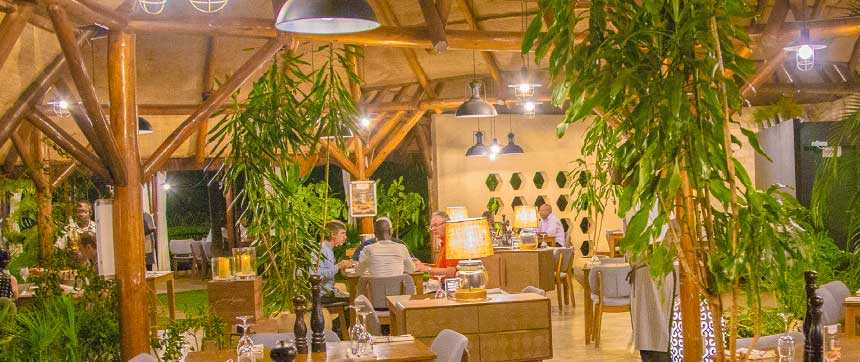 7) Mama Ashanti Restaurant
Placed on Plot 20 Kyadondo road, Mama is one of the most accessible best restaurants in Kampala 2020 and it has a lot to provide to its customers like food delivery once ordered for online, all types of food, a best location for children from and there is also an access for those that use wheel chairs.
If you are a fan of West Africa food, then this is the best location to go. With its relaxation atmosphere and serene beauty, Mama Ashanti provides you the full package of privacy and a secret get away with your friends although you should note that they are a bit costly.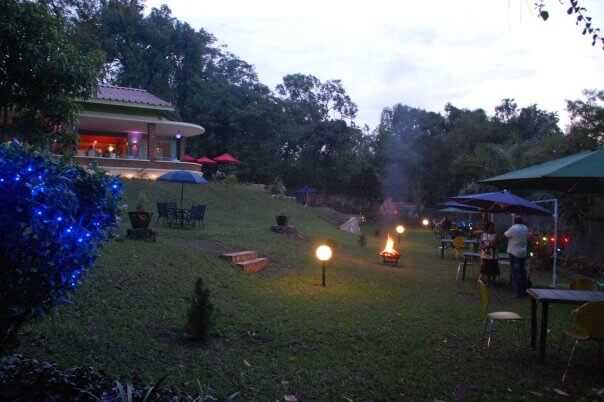 8) The Lawns
The Lawns provides you an experience that is full of lush green tropical gardens, tasty meals from high standard menus, and tables adorned with fancy table clothes and a multitude of silverware. The Lawns serve a big range of amazing game meat like springbok, gnu, kudu, impala, hartebeest, crocodile, and ostrich. The amazing staff members go beyond just taking orders and serving food – the service is precise and top notch.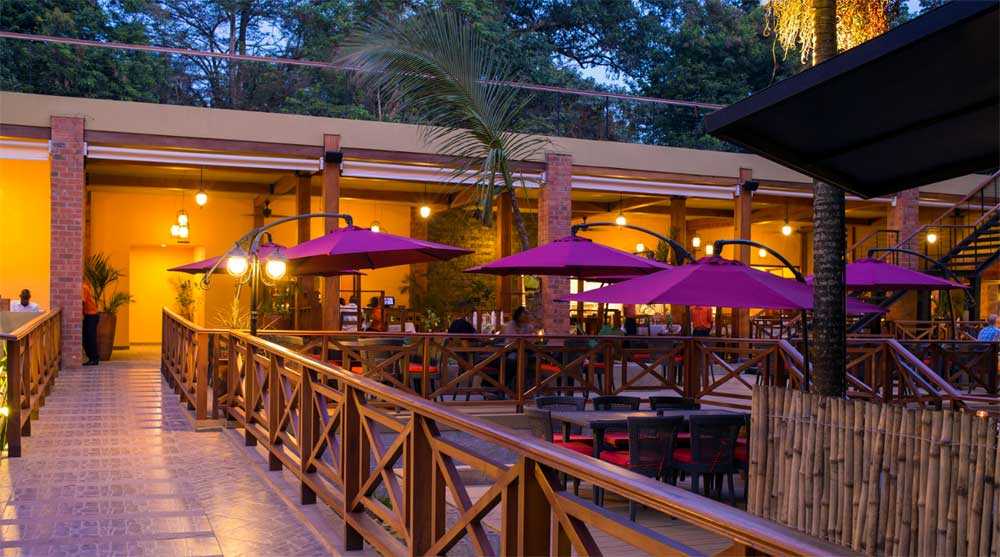 9) Great Indian Dhaba and Khana Khazana
If you are lover of Indian food, you are very lucky! Kampala is famous for its remarkable Indian cuisine, with some visitors saying it is the best they have ever tasted. Many favorite places in the city for Indian are Khana Khazana and Great Indian Dhaba.
Great Indian Dhaba is the more relaxed of the choices, with an eccentric open-air garden that lights up at night. Sample their Indian street snacks menu for a diversity of savoury and tasty treats, or order one of their remarkable curries.
For a more chic choice, check out Khana Khazana, a best outdoor restaurants in Kampala with luxurious decoration and a fountain. Their curries are a top notch and they have a big range of authentic dishes. Long wait times are general here, but settle in with a glass of wine and some naan bread and you will be a happy customer.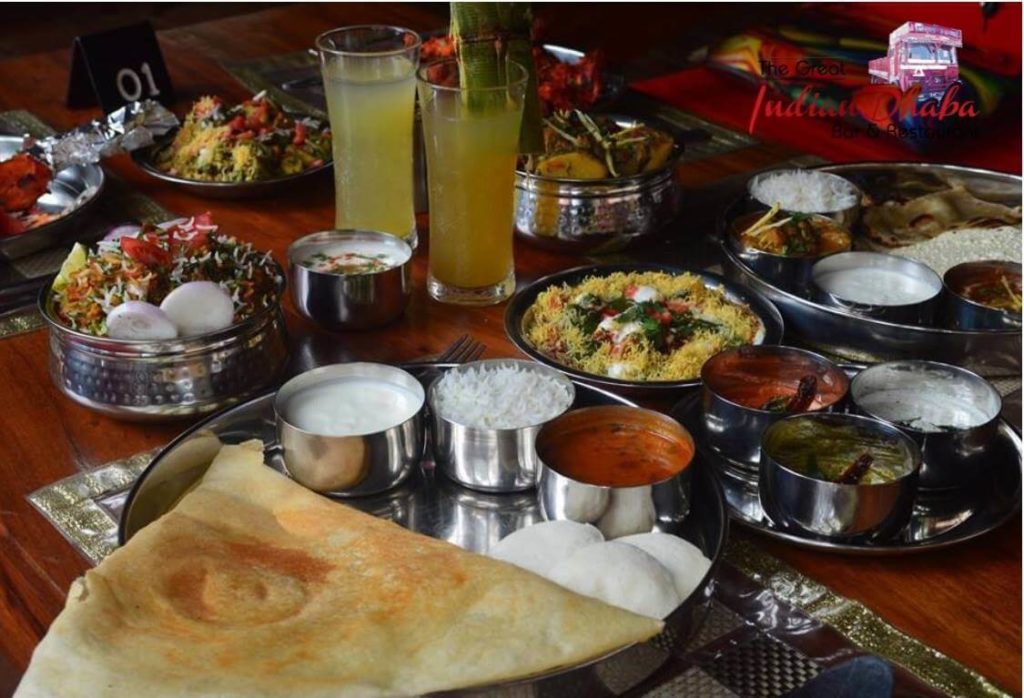 10) Spectrum Labonita
Placed among Colville road opposite Christ the King, Spectrum is a budding location most especially if you are into buffet food. Since it is placed within the city centre, its prices are a quite high but the tasty food is value it.
Spectrum provides a big range of foods that are from different continents including domestic dishes and they have a big area where one can hold parties, meetings, and they also have space that can accommodate couples and provide them the privacy that they need and can enjoy a play or two from the Theater Labonita just closely.
The favorite dishes served at Spectrum contain Luwombo of chicken, steak, groundnuts and meat, grilled pork and other international cuisines like pizzas.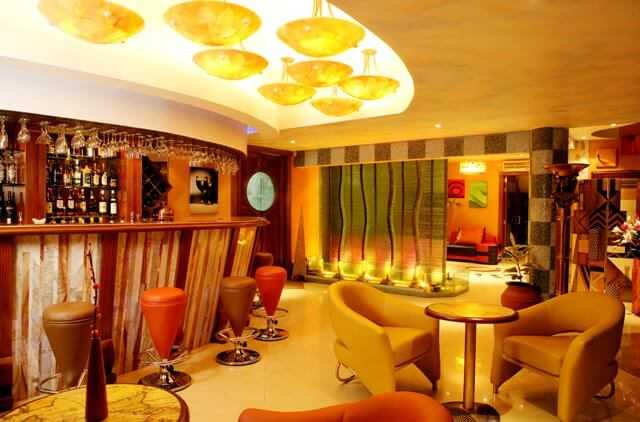 Discover more activities and things to do and best restaurants in Kampala, Uganda