The Top 10 Best Restaurants In Zanzibar – The Ultimate Zanzibar Travel Guide for Food Lovers
Famous as the spice Island, Zanzibar is a melting pot of cultures. It is literally that. In terms of its food, Arabic, Indian and African culinary traditions meet in the Zanzibar kitchen. The outcome: an explosion of flavor and a kitchen full of special dishes to enjoy. To ensure you do not miss the multi-culinary delights during your visit to Zanzibar, here is a list of best restaurants in Zanzibar that serve mouth-watering meals.
Here we highlight the top 10 best restaurants in Zanzibar:
1) The Rock Restaurant
Placed on the south east of the Island, on the Michamwi Pingwe Peninsula, approximately forty-five minutes from stone town. In a short area of time, this best restaurants Zanzibar has become an iconic place for visitors to zanzibar. As the title advices, this thatched restaurant is perched on a rocky outcrop, walkable at low tide and reached by boat at high tide. Amazing seafood but also surprisingly best pasta and more international dishes. Comparatively costly for Zanzibar but value every penny.
2) Baharia Restaurant
This restaurant is near to the beach, the historical places of the sultans palaces and Portuguese architectural remnants that rule the old part of Zanzibar called as Stone Town. This little luxurious hotel is prepared attraction for guests looking for relax experiences in this eclectic African town. Best outdoor restaurants in Zanzibar provides dreamy sights over the bay and excels in serving fresh seafood dishes based on daily catches of sea bream, kingfish, white and red snapper, cobia, barracuda, sailfish, tuna, lobster, rock cod, calamari, prawns or crab.

3) Emerson on Hurumzi Restaurant
This must-try best restaurants in Zanzibar is placed on the rooftop of the second tallest building in Stone Town after sultan palace, the House of Wonders. Providing special panoramic sights to the Indian Ocean and the neighboring mosques, the House of Hurumzi has its share of legends and mystery some even relating its name to black slaves freedom. Restored to its past glory after decades of oblivion, Hurumzi House workers today as a little hotel, its rooftop restaurant being one of the top places in town the unforgettable and exotic view of Stone Town and a fresh seafood-based menu.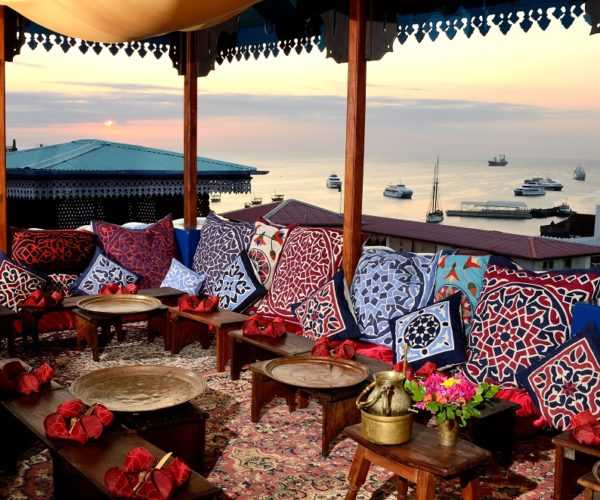 4) Taraab Restaurant
Taraab provides a combination of international and local cuisine in an intimate setting with live music and amazing sea views. It specs a domestic big range of dishes for all kinds of food lovers. Feast on the crab soup, lamb kofta, fish curry, Mezzeh or any of the other tasty dishes while enjoying to live music. The ambience and service makes a wonderful dining experience. The desserts here are the best ending to a unique evening. Try the chocolate chip cookie ice cream. The chef even decorates the desserts with inspirational quotes.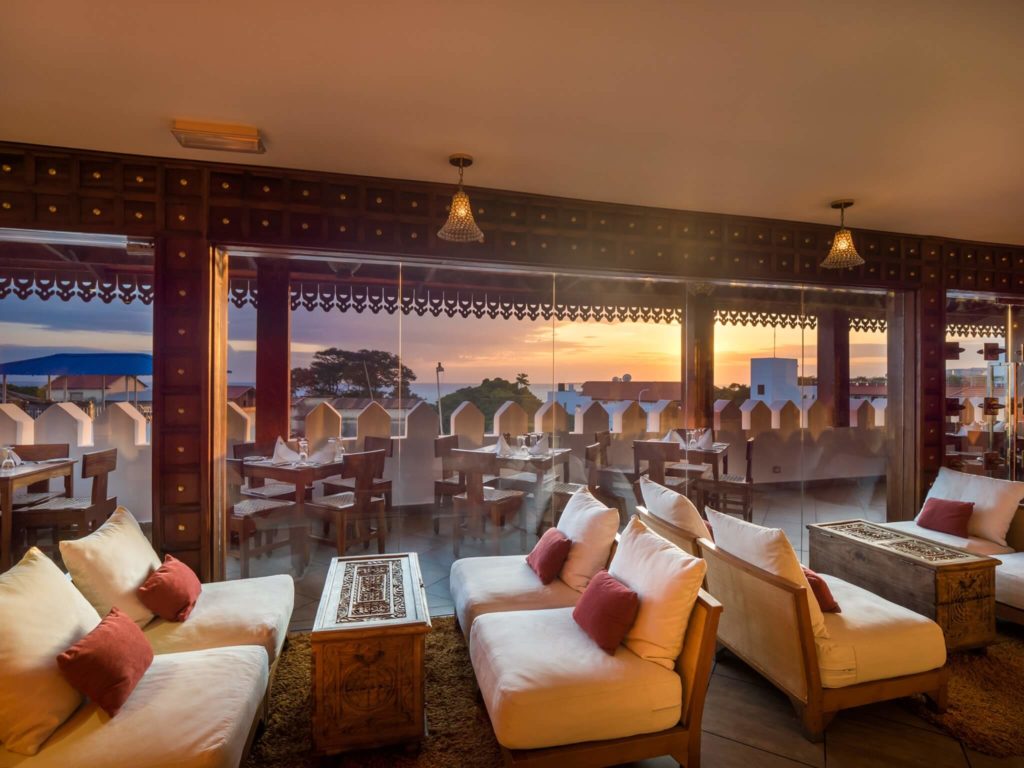 5) Bin Jabir Restaurant
This little local best restaurants in Zanzibar with a view on the beach is a culinary surprise. The decoration may be pretty basic, but the dishes are true flavor experience. You can pick from a big range of dishes at a best price, such as seafood, shrimp curry, chicken and pilau in coconut sauce. All the food is fresh and the fish they dish up is caught that very same morning. Enjoy the flavor local cuisine and laidback environment, with your feet in the sand. The staff here are friendly and warm, mainly the owner. Bin Jabir is placed next to Seles Bungalows, opposite the Ray diving centre.
6) Bahari Pizza Restaurant
A cosy Italian restaurant, right on the Jambiani beach, with a remarkable view over the Indian Ocean. The pizzas are wonderful, especially the popular salami pizza and fish. In addition to fresh pizzas, they also serve tasty curry, lobster, tiramisu, salads, pasta carbonara and many more goodies. If you need vitamins, order a fresh smoothie or fruit drink with crushed ice. Bahari provides an intimate ambiance with friendly staff and live music each Friday night. Hence best restaurants Zanzibar is added in the list of ten must-try restaurants in Zanzibar.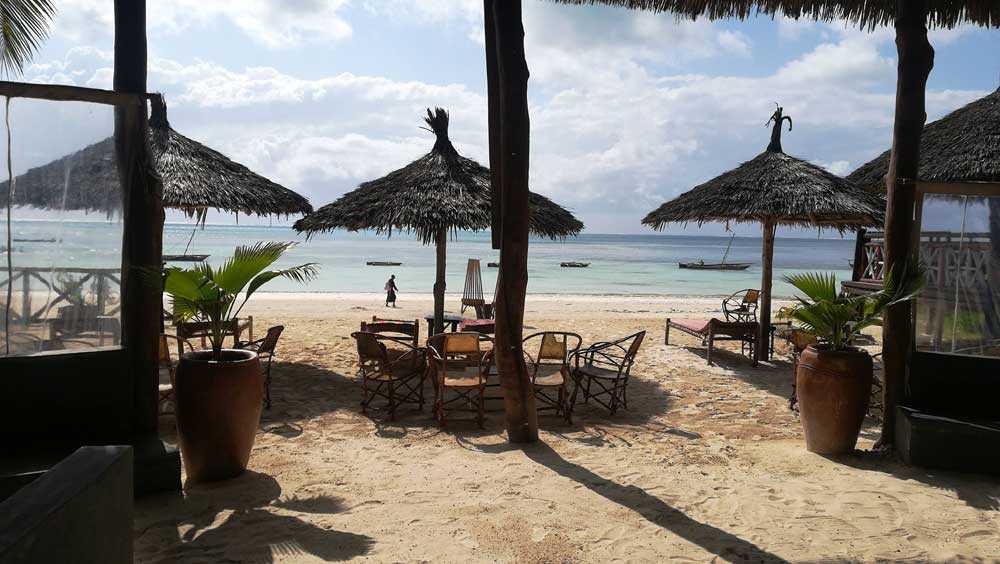 7) Abyssinian Maritim Restaurant
Abyssinian Maritim is a traditional Ethiopian best restaurant in the centre of Stone Town and go-to location for visitors who want to discover as much as easy about the flavors of Africa. This thematic best restaurants in Zanzibar adopts the Ethiopian custom of eating with your fingers as well as the plate sharing approach, a very old symbol of loyalty and friendship. Among its specialties, you can try the Maritim renowned fresh-roasted coffee and Ethiopian bread Injera.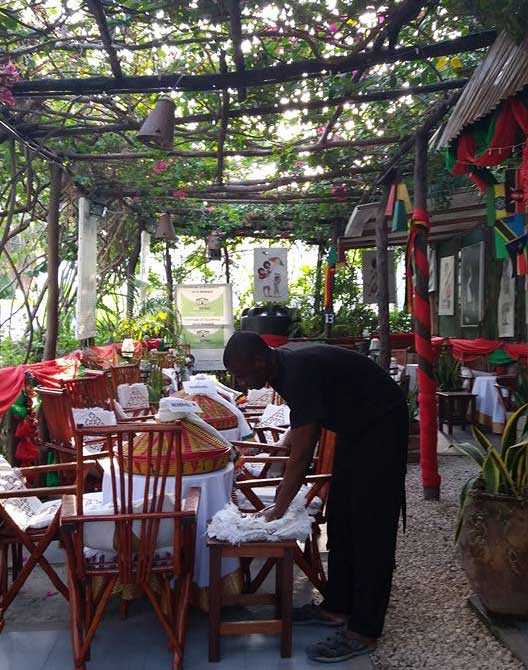 8) The Island Restaurant
This is what they call dining with a view. The Island restaurant is on a cliff in Pongwe Bay, ten metres from the becah. Depending on the tides you can reach it by boat or on foot. These tides make a special environment, since the landscape around the best vegetarian restaurants Zanzibar changes continously. If you are looking for a special, romantic location, you are at the best place. The dishes are fresh and a treat for your flavor buds, especially the fish. The standard of the service is extremely high, with an eye for detail, as you expect from restaurants like the Island. Absolutely one of the most unique restaurants in Zanzibar.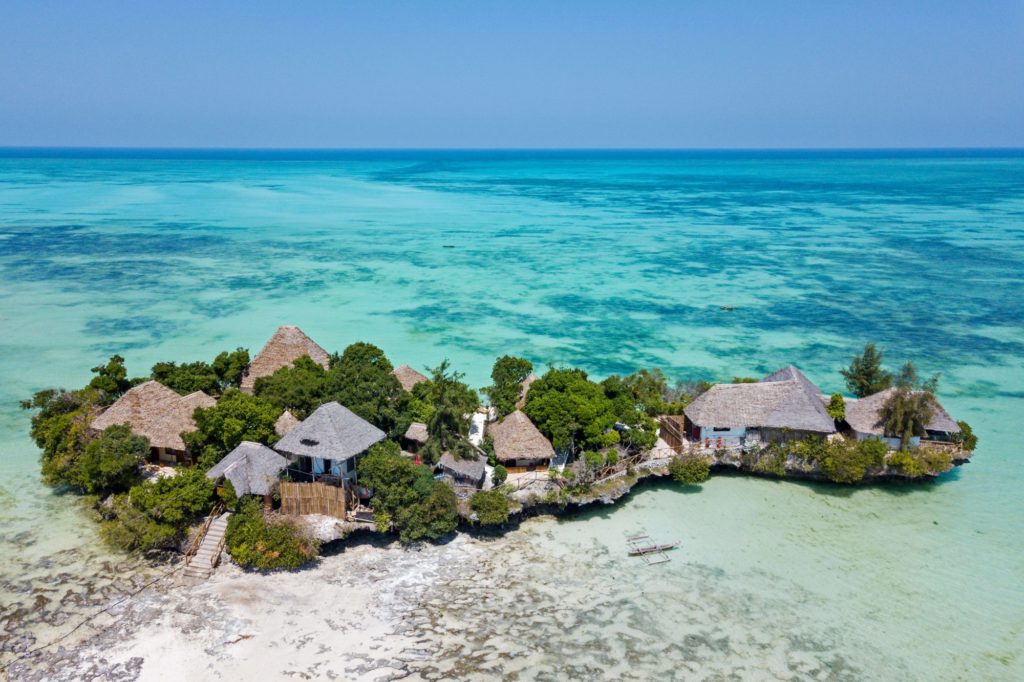 9) Emerson Spice Restaurant
The tea House on the rooftop of this old merchants home provides a standard authentic Stone Town experience. (sister restaurant to Emerson on Hurumzi). Dinner tend to be a seafood based and Zanzibari style- think giant prawns, lobster, coconut flavours and king fish with chilli. The price per person is USD$40 per person excluding drinks. Book your best restaurants in Zanzibar 2020 table first. As there are only 20 tables, a deposit is needed for the bookings confirmation. Closed Thursday. We would also advise lunch in their secret garden courtyard which is more tapas style.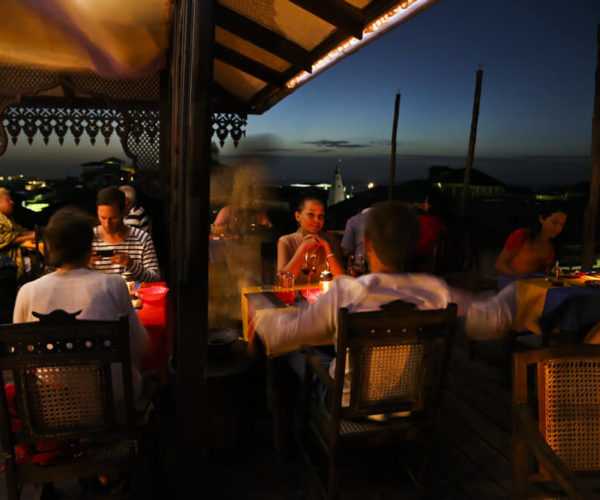 10) Upendo Restaurant
Upendo is a wonderful eco chic hotel right on the beach at Pingwe with a very chill restaurant open to non residents. Food is best and well presented with tastes of Africa served in a new style. Flavourites contain steaks, grilled seafood and Swahili curries or at lunch time tasty wraps and amazing burgers. Upendo adds a pretty fun to the occasion with Sushi Fridays and their famous Sunday Brunch with accompanying music scene. Booking best restaurants Zanzibar advisable.
Best Restaurants in Zanzibar Final Words
Thank you for reading this top ten Zanzibar restaurant guide for food lovers.
I hope this source will provide you lots of ideas about locations to go and foods to eat when you visit this amazing island just off the coast of East Africa.
I hope this resource will provides you ideas about the places to eat, help you focus on the things you want to experience, and discover tasty food to eat, when you visit this wonderful island just off the coast of East Africa.
No issue if you are looking to have an inclusive relaxing resort holiday, or a beach-bun laid-back gateway, it is the big melting pot of cultures, the amazing beaches and charming natural scenery, and the friendly charm of local Zanzibar people, that makes visiting Zanzibar such a special fun.
No doubt, the island of Zanzibar is one of those amazingly exotic names which conjures up spices, mystery, and tropical heat. It is all those things and more.
Discover more bars, fun activities, things to to and best restaurants in Zanzibar, Tanzania