20 Best Things to Do in Lamu Island
Who says there is no paradise on the African continent? Probably missing Lamu, part of the Lamu archipelago in Kenya. Discover the best things to do in Lamu Island.
Kenya is primarily known as a safari destination and is home to Swahili. Thanks to its fascinating history, the country has a vibrant and diverse culture. There is a unique blend of people born from distant lands such as India, Yemen, and Oman. Not only the shape of the abandoned and the taste of the dishes but also the features of people's faces have remnants of Arab and Portuguese history. This diversity is particularly noticeable in the country's coastal areas and beautiful Lamu Island. Lamu is also UNESCO World Heritage Site.
Lamu Island consists of one town and three villages. Go to this island by ferry from Mokowe. However, once you get to the island; don't worry about transportation around it. Here, donkeys are used because there are no cars or other cars on the island. Now it's a thrilling ride! Well, you can always trek or use a bicycle. In terms of vehicles, this place is not excluded from the latest trends. This is because the road is so narrow that the car cannot fit.
Lamu is mainly a pedestrian island, full of charming narrow alleys, donkeys, and dhows, and can carry you along with various areas of the coast. With breathtaking views of the emerald green sea, you can visit it any time of the year.
Read the list of top 20 things to do in Lamu Island and experience an unforgettable holiday experience that will energize and vitalize life itself.
1. Lamu Museum
Located on the waterfront next to the town pier, it is the second-largest building in Lam Old Town, following Lam Castle. Abu Darab bin Hamed Vinciad Albside initially owned the building, and its construction was completed in 1892. Here you can see a complete introduction of both the past and the current region. There are fascinating collections of Swahili, Pocomo, Oma, Boni, and other inland tribes.
2. A Visit to the Lamu Fort
This colossal skyscraper with a central courtyard dates back to 1813, shortly after Lam's victory over Pate and Mombasa in the battle of Sierra. This fort has long served as a prison from 1910 to 1984 before being handed over to the National Museum in Kenya since it housed the garrison of Baloch soldiers sent by the Sultan of Oman.
There are three exhibition sections: the marine division, freshwater, and land. Lam Fort stands in the center of Lam town and cannot be overlooked.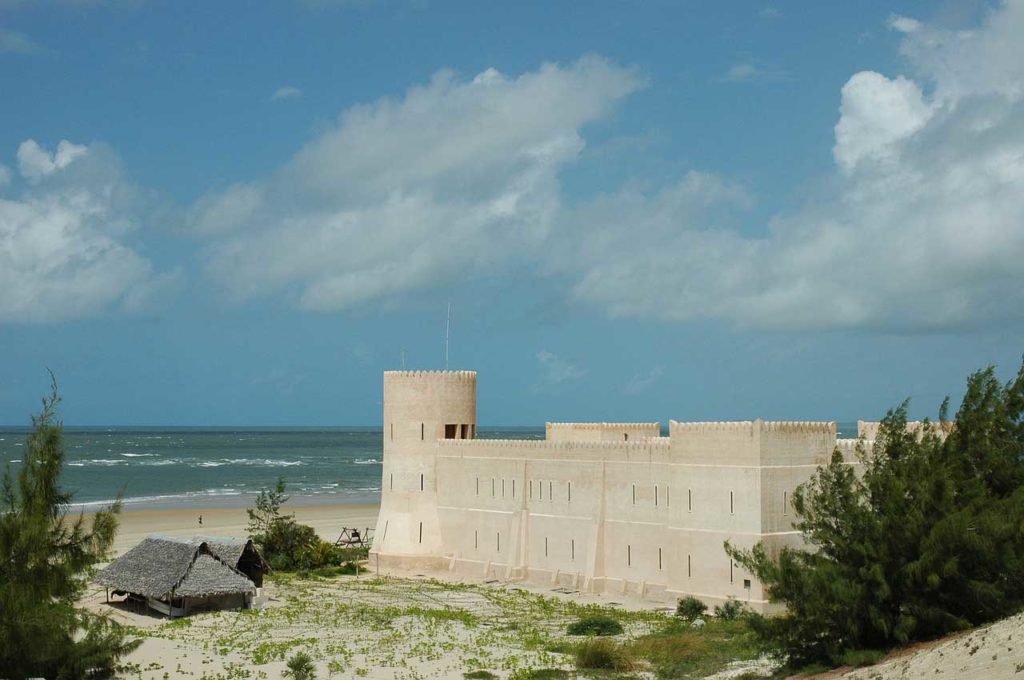 3. German Post Office Museum
This two-story building was the first post office in East Africa that emphasized Lam's fame and served as the center of maritime time trade with Europe and other countries.
It was built in the early 19th century after Mrs. Mwana Madina reclaimed land from the sea. It was later purchased and refurbished by Gustav Denhardt, German consul, Architect, and Geographer. The house became a post office in 1888 and a museum in 1996.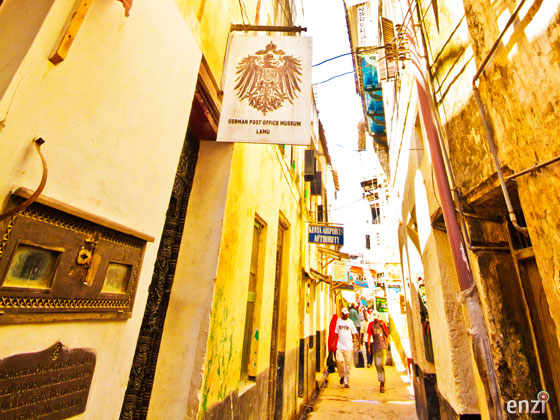 4. Swahili House Museum
Walking through this unique museum gives you a glimpse of the traditional setup of a Swahili house with a well-planned bedroom, bath, kitchen, and living area. Antique furniture is used throughout the room, giving this museum a real feature. Located in the northern part of the town, it was restored to show the Swahili house of that era.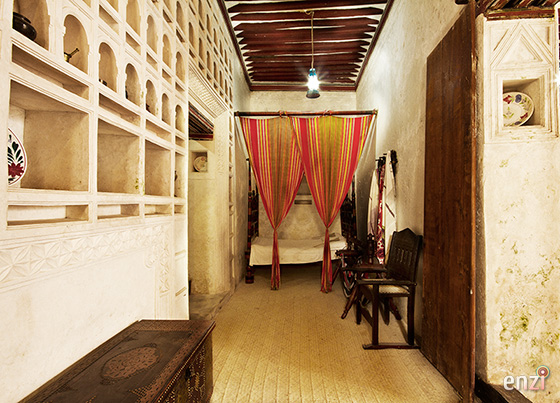 5. A Visit to a breathtaking beach
Lamu's beaches are white sand, and the turquoise waters are laid out like a gorgeous Persian carpet. The scenery is magnificent for postcards and strolling these picturesque beaches early in the morning is a great way to start your day. Meanwhile, stop by one of the juice bars and enjoy a snack.
6. The Shela Town
This quaint town is on the edge of a long white sand beach. Filled with dusty alleys and donkeys, it's incredibly appealing to walk around all the walks this residential space has to offer. Tall and proud townhouses, along with dwarf huts, are unique and unique characters. To enjoy the view of the town of Sierra from above, you can climb one of the dunes behind the village. Make sure the footwear is suitable for the hot sand temperature.
7. Matondoni Village
If you want to know more about Lam's world-famous traditional dhow craft and how to make it, this is the place for you. If you're going to enjoy the best palm mats on the walls and floors, please meet at Kipungani Village.
8. Get a Taste of Swahili street food
Most of the street food here is sweet or fried, but it's worth taking a break from a regular healthy meal and tasting these delicious treats. From Kaimati like donuts to delicious barges usually associated with South Asian cuisine, these delightful bites will attract you every day. Street food is generally available in the morning or evening after 4 pm.
9. Snorkeling
Although not the leading traction site on Lamu Island, snorkeling in this area provides a great underwater experience and an introduction to marine life, in particular, Mandatoto's coral reefs are particularly impressive, where you can find a variety of coral fish, shy turtles, and majestic dolphins.
10. Visit a local market
While Lamu is booming with tourism, the market mainly caters to the needs of residents. They are a great place to interact with locals and buy fresh fruits and vegetables to enjoy during your stay.
11. Enjoy the Mauriday Season
The inhabitants of Lamu Island are mainly Muslim, and every spring of the lunar calendar has a four-day celebration to celebrate the prophet's birthday. It's a time when the whole island is alive and full of visitors from all over the world. If your trip to Lamu matches this season, you will not regret it. The entire period, from boat and donkey races, tug-of-war games, tribal dances, and traditional singing, is one big party and an explosive demonstration of the island's cultural and religious diversity.
12. Explore nearby islands
Especially on hot and sticky days, you may want to escape to the sea and explore nearby islands. The lush greenery and spectacular views of the ocean and beaches on this almost untouched archipelago are amazing to experience. The look of Lamu Island from Manda is a different world, especially at dusk. Have a picnic and watch the enormous fireballs of the African sun come down to the palette of productive crimson and dim pink artists.
13. Enjoy delicious freshly caught fish
Many of the island's fishermen are also some of the best grillers in town. You can see that fresh seafood is roasted in the evening. Pull up simple plastic tables and chairs and enjoy everything from octopus tentacles to shrimps and snappers.
14. Hakuna-Matata
Known by the western audience through the beloved jungle book, this timeless phrase should be the motto of what you will experience on Lamu Island. There is no "worry" in this gorgeous tropical landscape. Swahili people are known for making things more accessible and more comfortable. Their book leaves make your time valuable in every way.
15. Learn By Watching A Donkey
In recent years, the number of bikes on this island has unfortunately increased, but the most common means of transportation is still on foot. Second, to this, donkeys are commonplace, and you see them everywhere. They are vital to life here, especially on some of the more remote islands of the archipelago, for agriculture and mining.
At Donkey Sanctuary, you can learn more about the team and their work over the past few years. They try to protect donkeys and make sure they aren't overworked or suffering from harness or luggage damage. For animal lovers and those interested in maintaining this traditional way, this is a great project to visit and support.
16. Pate Island
AAccording to Pate's Chronicle, the town was founded by Arab immigrants in the early Islamic period. In the 13th century, a confiscated group of Arab rulers of Oman (Nabhani) arrived on Pate Island. The main towns of Pate Island are Shiyu, Faza, Kizungitini, and Mutangawanda, which are best known for their traditions as a center of Islamic learning.
17. Shanga Ruins
This is the oldest known settlement on the Kenyan coast and the most important historic site of Pate. It dates back 200 years and first settled between the 8th and 9th centuries.
18. Kiunga Marine National Reserve
The Kiunga Marine National Reserve, which extends about 60 km along the coastline with coral reefs and small islands, is located at the confluence of eastern North Africa. A coastal current and a nutrient-rich Somali Current that flows south.
It is famous as a rare dugong habitat with a mermaid-like tail (conceived as a source of mermaid mythology). It is also the largest breeding ground for white terns, at least five turtles, and nine mangrove species. It is located on Kiwayu Island, accessible by dhow or speedboat.
19. Board the Dhow Boat
TThis is a traditional Arab sailing boat and one of the common ways to navigate the island. Locals board the dhow from both major ports. Bob along the beautiful turquoise waters and enjoy a relaxing morning while enjoying the ocean air. Since the crew knows all the best spots offered on the Lamu, you can guarantee yourself an enlightening voyage.
20. Stay in an elegant and beautiful townhouse
To get an actual Lamu experience, you need to stay in one of the beautiful townhouses in Sierra Village. Many have been renovated into beautiful and comfortable guest houses that attract people from far away. They are an architectural pleasure, and staying in one of these residences will be an overall relaxing experience.
Overview
At the crossroads of ancient trade routes, Arab, Indian, Portuguese, and African cultures merged to create a beautiful and unique blend of Lamu architecture, people and cuisine. With a donkey and boat trip and an untouched white sandy beach, Lamu Island is a quiet retreat for those looking for sun, sand, and simplicity.
Discover more attractions, fun activities and the best things to do in Lamu Island.