Top 20 Best Restaurants In Marrakech, Morocco
Marrakech, the famous city of Morocco, is a remarkable place for foodies. There are a big number of amazing cafes and restaurants dotted around the city, all offering easily some of the top food in Morocco. The true challenge comes from deciding where to eat in Marrakech and which best restaurants in Marrakech to go to in this dynamic city.
Here are some of the best restaurants in Marrakech:
1) African Chic
African culture is placed right in the center of the town at African Chic. African chick lounge provides a mix of international signature cocktails, its Zebra Restaurant is the best location to enjoy the best of international dishes, varying from Asian flavours as the bouef a la Japonaise or the poulet Thai, to the creme caramel falcon desert from Brazil. There is even French cuisine in the type of the coeur de filet de boeuf. African chick colorful African decoration makes a really welcoming atmosphere for visitors not only to enjoy a tasty meal but also to watch live Latin music fun.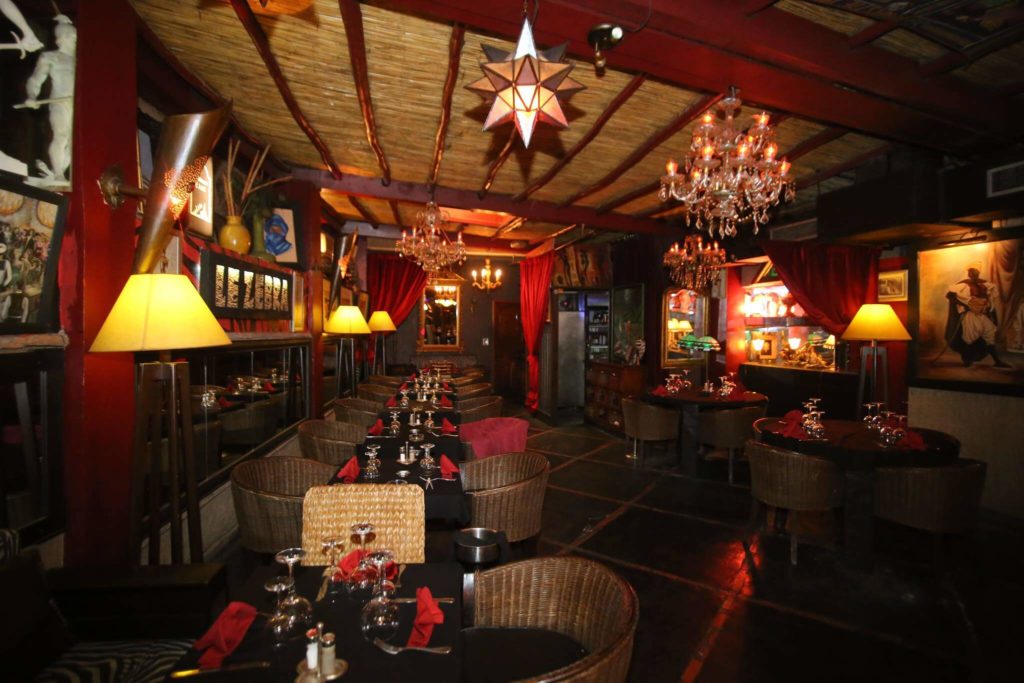 2) Cafe Clock
Cafe Clock has 2 different places, one in Fez and the other in Marrakech. The contemporary place of Marrakech Cafe Clock provides a casual environment with its terrace, where visitors can enjoy a rich breakfast mixture of either scrambled eggs with roasted tomato or pancakes with taste banana. Cafe clock has key dinner and lunch courses, such as toasted couscous bouhalooor the exquisite specialty camel burger, along with domestic desserts and mint tea.
3) Gatro MK
Referred to as the Medina jewel, Gastro MK is placed in the luxurious Maison MK spa and hotel. Gastro MK provides the finest of Moroccan and French culinary fusion through a menu created by Head Chef Omar El Ouahssouassi, and permits visitors to choice of five-course meals, along with Moroccan afternoon tea. The best restaurants in Marrakech provides an exclusive and unique Jamie does Marrakech menu program, where participates can experience authentic domestic market shopping, then witness the making of a feast, and savour it as a 2 course traditional Moroccan meal.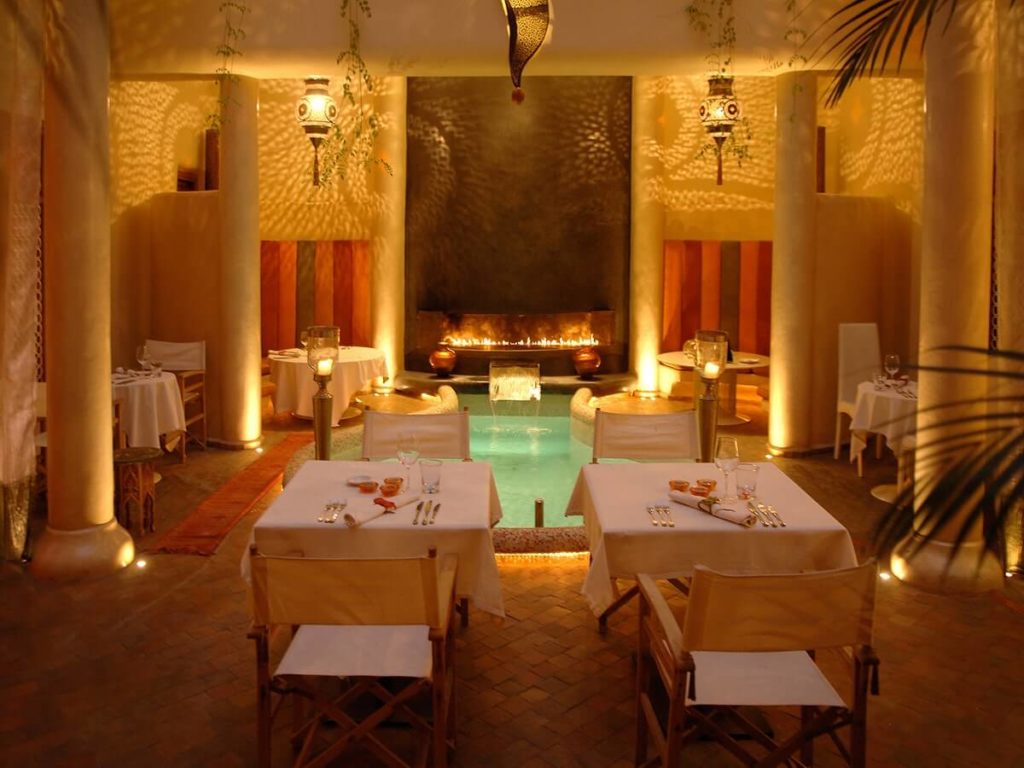 4) Kasbah Cafe
With its open terrace overlooking the Old Medina and the very old Saadian Tombs site, Kasbah Cafe and a best restaurants in Marrakech 2020 is a special location, dedicated to providing its visitors a flavor of both the local and global culinary experience. The Andalusian art and decoration is a highlight of the experience. Kasbah cafe is open at any given time and is the location for guests to enjoy the company of friends and family while taking a moment to sit for a fast lunch or casual dinner. Visitors have the choice to pick from the international menu, the daily Moroccan special, and best vegetarian restaurants Marrakech.
5) Le Jardin
Bringing French cuisine to the medina heart, Le Jardin blends the grace of French food with Moroccan cuisine. Placed in a seventeen century abandoned building across the street from the Dar el Bacha and Riad Laarous, it was designed by Kamal Laftimi an d Anne Favrie, who mixed 1960 decoration with traditional Moroccan designed. The combination of these 2 styles makes a stunning cultural oasis. Le Jardin provides a relaxing atmosphere, and a menu where visitors can pick between a traditional French or Moroccan meal on best restaurants Marrakech, accompanied by either a French espresso or the popular Moroccan mint tea.
6) Nomad
Nomad Marrakech is the location to be seen. I would strongly advise making a reservation in advance of your dinner or lunch as Nomad gets truly busy. This charming best restaurants in Marrakech with a view is spread out over several floors, with a remarkable roof terrace that provides stunning wonderful views across Marrakech. Nomad is placed in the heart of medina at Places des epices and I would advise using your phone map to find it. You can view the place of Nomad on Google Map.
7) Atay Cafe
A best place to have a break in the medina, Atay Cafe has 3 terraces, all lined with soft benches that are best for lounging on. Here, no issue what angle you take a holiday picture you can be sure there will be at least 1 mosque and a slice of the Atlas Mountains in the background. They serve soups, tagines, and salads, and there are some amazing pastas dishes for those who fancy a change.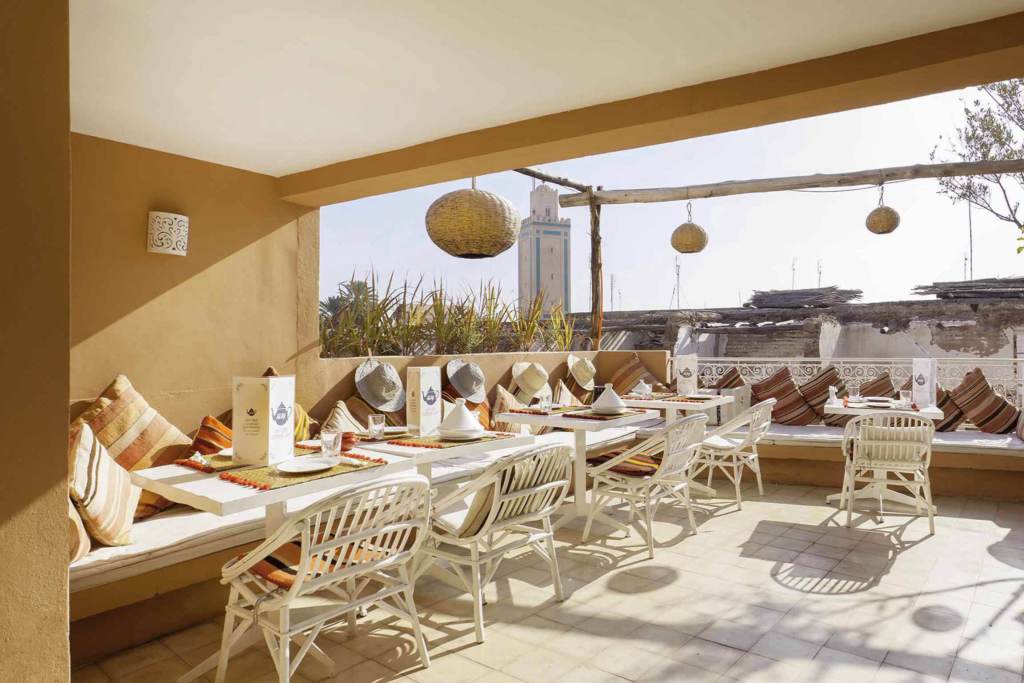 8) Pepe Nero
At Pepe Nero, Chef Khalid Robazza Essafa is devoted to bringing the best of Italian-Moroccan cuisine to Marrakech residents. The environment within Pene Nero is formal, and visitors can experience not just the classic and lavish Marrakech decoration, but the signature Pepe Nero Le Ville Rough menu. The Italian section, created by Chef Essafa, provides visitors recipes such as risotto carnaroli allo zaffernao or della casa del pescatore, while the Moroccan part of the menu is curated set of Moroccan recipes such as the taine d agneau makfoul or the mechou d agneau, both amazing examples of lamb-based dishes on best restaurants Marrakech.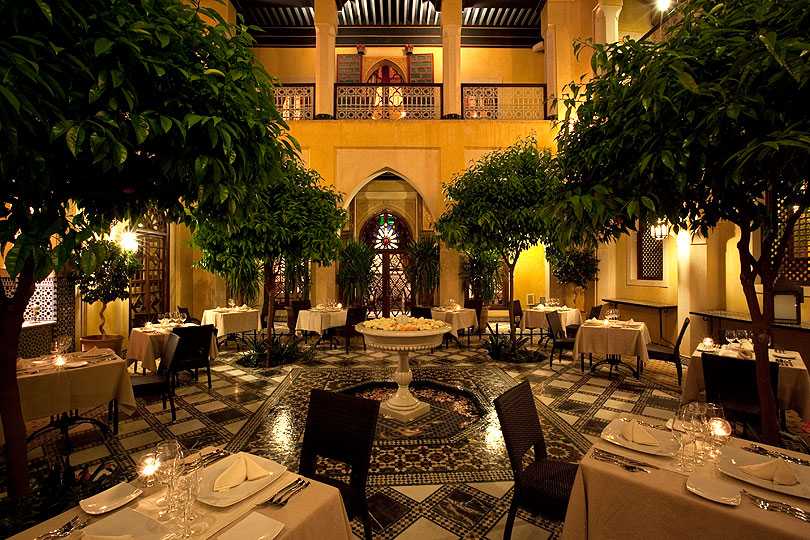 9) Al Fassia
Al, Fassia, helmed by Saida Chaab and her family, has been run fully by ladies since it opened in 1987, as much a rarity then as it is now. For nearly as long, the best outdoor restaurants in Marrakech has been hailed as the location to eat in the city. Begin with the pastilla, a baked phyllo pite stuffed with pigeon meat or chicken, onions snow-cooked with creamy eggs, powdered sugar and almonds. Then dig into one of the more unusual tagines, like chicken with caramelized pumpkin or beef with rice, shallots, and almonds.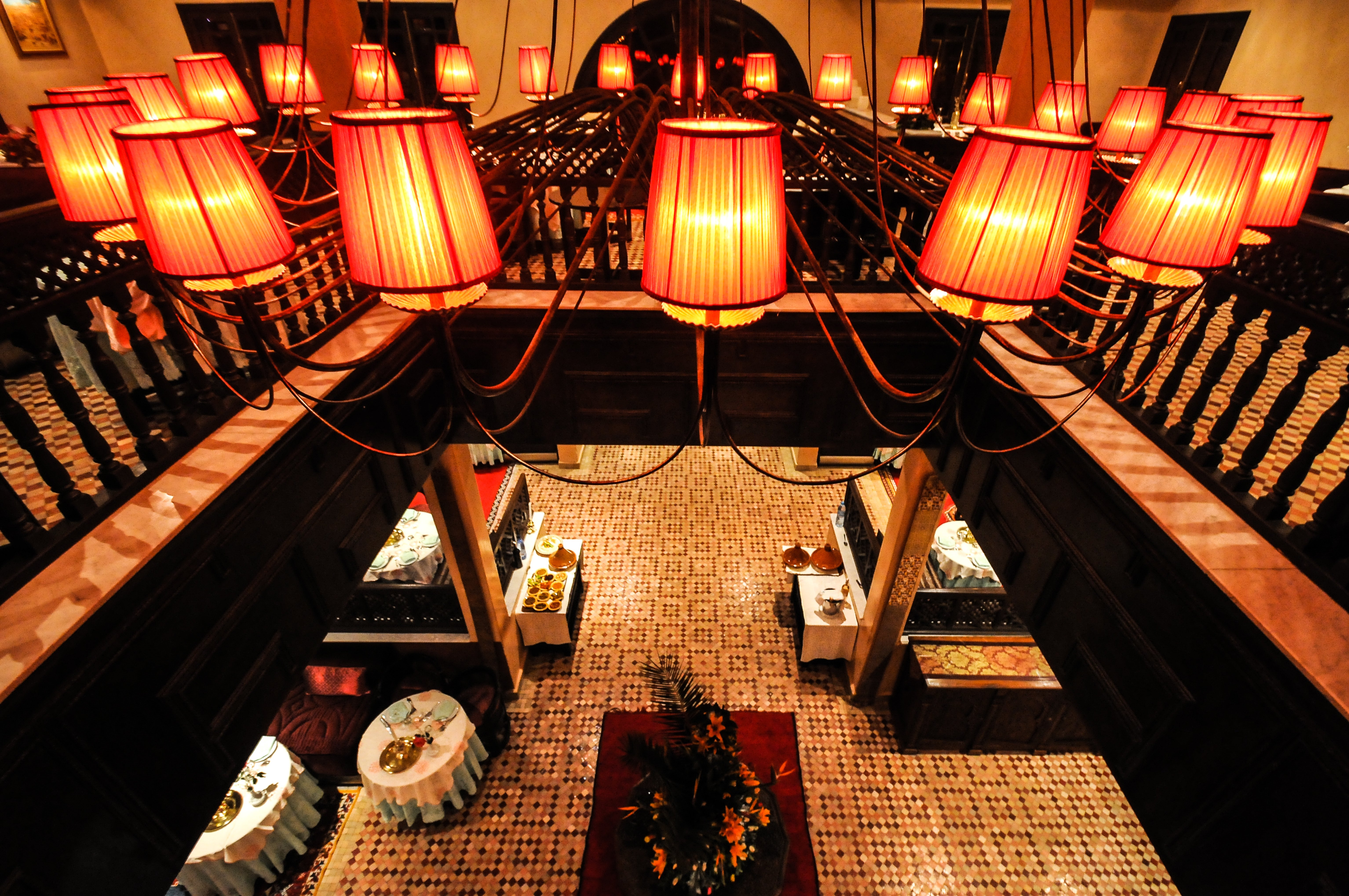 10) Bachaa Coffee
After visiting the remarkable Dar el Bacha Museum of confluences, entering this on-site cafe and restaurant is like taking a step back into the 1920s. Casablanca is full of Art deco design, but examples are less general in Marrakech, and the style is rarely gathered with palatial Moroccan residential architecture – all making Bacha more intriguing to explore. The coffee bar and best restaurants in Marrakech is a must for caffeine lovers, given its big list of over two-hundred varieties of coffee, including some rate types.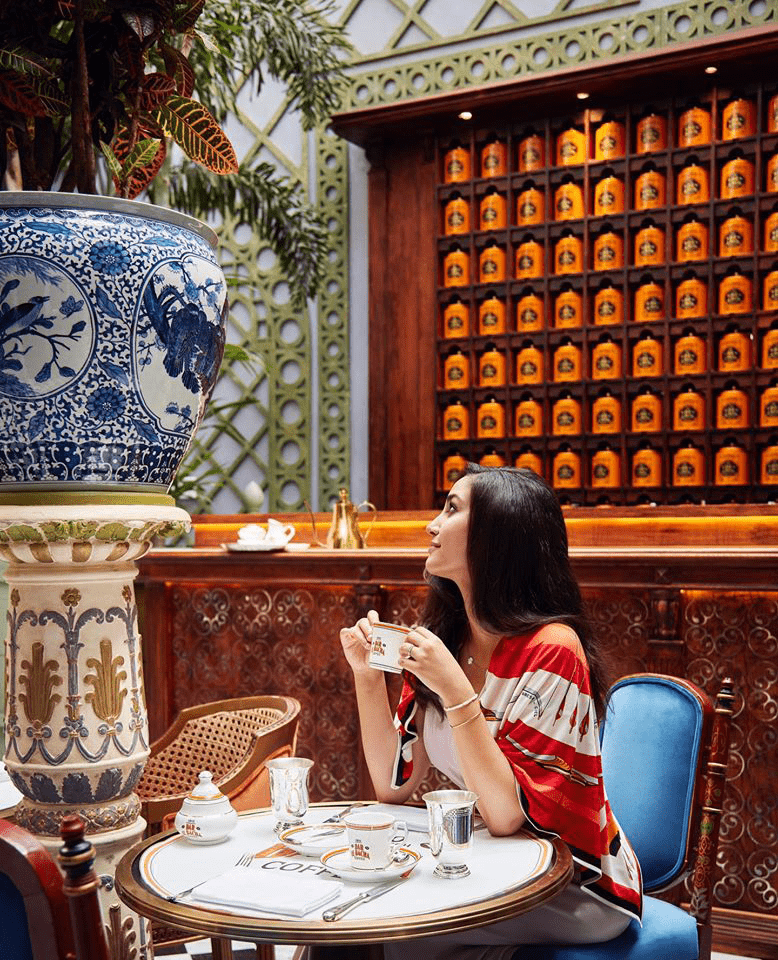 11) Fine Mama
There are not many restaurants close to Jemma el Fna that provides more than a basic shwwarma or sandwich, but Fine Mama is different. Along with very old Moroccan dishes, such as amazing breakfast and brunch spread, the kitchen serves globally inspired vegetarian and vegan selections, including a tasty Buddha bowl composed of fresh vegetables, falafel, beetroot, and lentils. Pair anything with the best restaurants Marrakech selection of juices.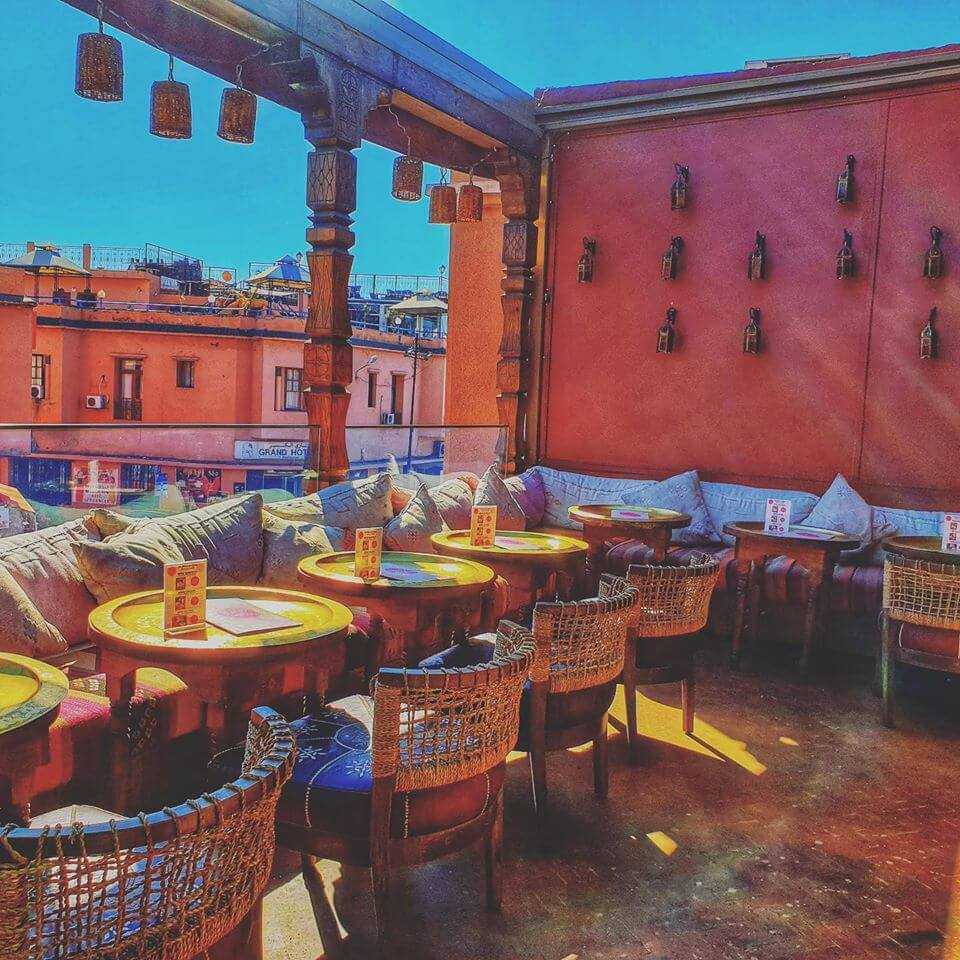 12) Henna Art Cafe
Vegetarian, gluten-free, and vegan visitors to Marrakech should be sure to visit Henna Art Cafe, where the staff graciously cater to a big range of diets. Every item on the menu is clearly labeled for dietary limitations, and visitors should feel encouraged to ask for details if they have specific needs. After you finish your meal, head over to the hundred percent organic henna studio linked to the best restaurants in Marrakech for some ink to commemorate your tasty, diet-conscious meal.
13) La Trou au Mur
One of the newer best restaurants in Marrakech 2020, La Trou au Mur has fast established itself as a standout. The menu contains Moroccan dishes and international choices, permitting diners to mix and match. Take benefit of the restaurant huge clay oven by ordering the amazing mechou with one of the signature, custom sauces, like traditional preserved barbecue sauce or lemon sauce for a twist.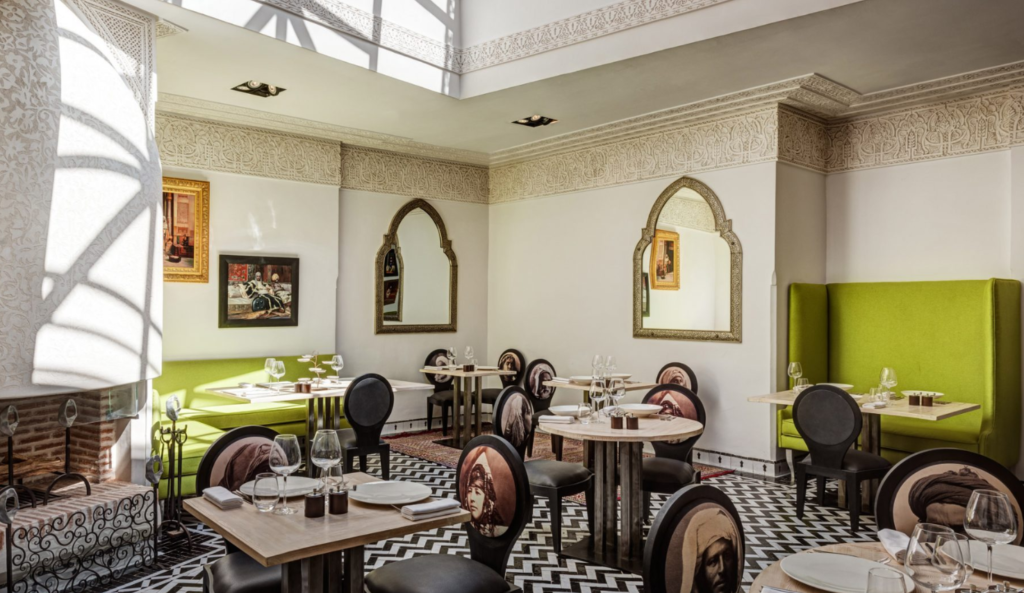 14) Blackchich Cafe
As the city becomes house to growing population of immigrants from several nations in West Africa, Blackchich is one of several restaurants reflecting Senegal culinary influence on country. The Medina restaurant combination of Moroccan and Senegalese dishes makes it best choice for dinner, lunch or anytime you might like mafe yappou nague served with vegetables and rice.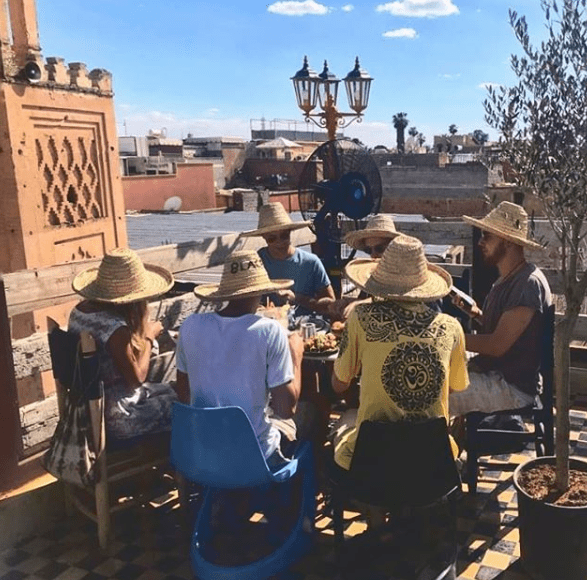 15) La Famille
Hidden in a charming garden in the medina, La Famille serves refreshing vegetarian fare. The menu contains salad choices and daily pasta, as well as dips and pizza, but dishes change continually to follow seasonal produce. Do ensure to save room for one of the rotating desserts, like amazing chocolate cake or the fresh fruit tarts. Though la Familie is just open for lunch, the largely famous restaurant still generally needs a reservation.
16) Ksar Essaoussan
The best restaurants Marrakech is so well hidden they have a man in a red clock waiting at the nearest famous street to help you find your way. It is a renovated riad that serves only a restaurant – no on-site accommodations. Booking should be made, but what you will find is a truly amazing meal of traditional Moroccan food for a very reasonable price. Their little menu, which is more than enough, comes in around $36 per person for all drinks and courses.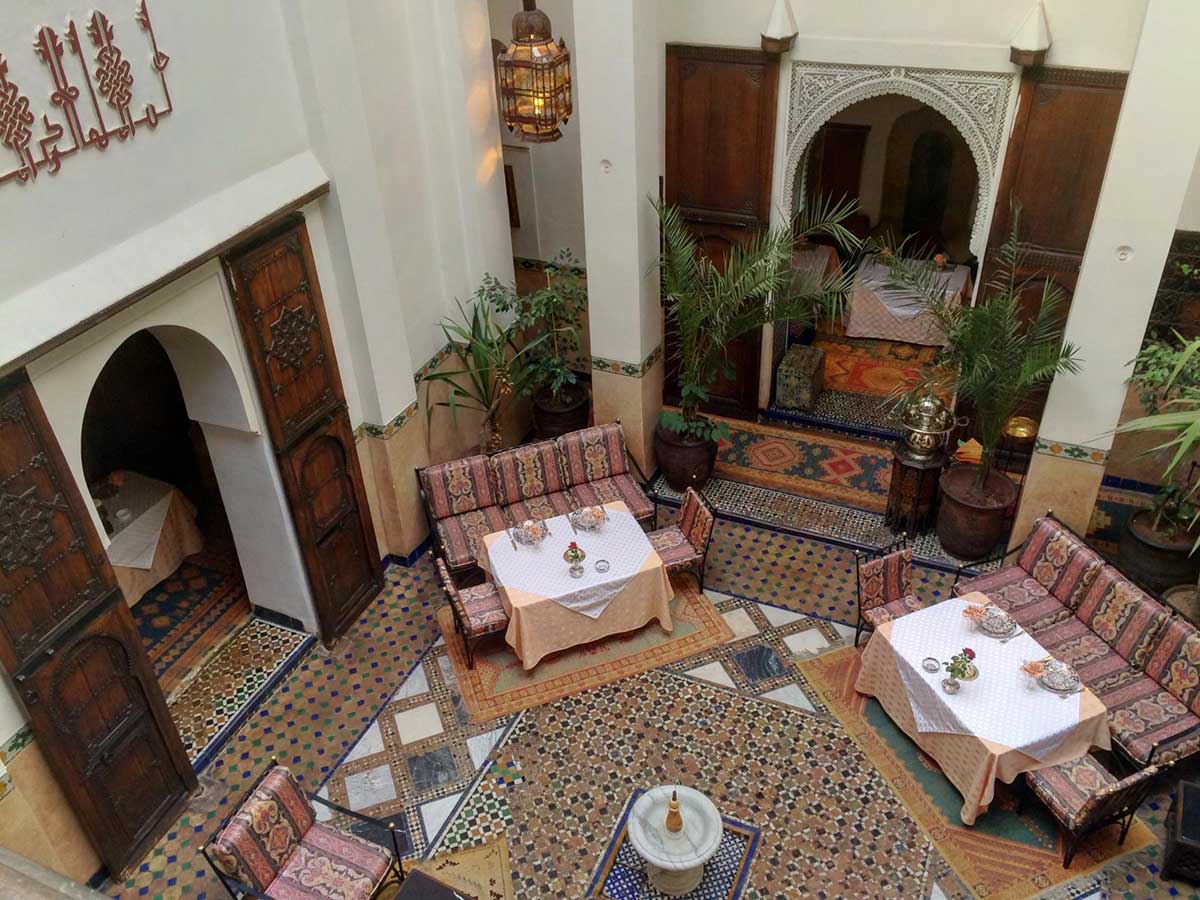 17) Bejghueni
This is one of our favorite locations to take guests that are visiting. The best restaurants Marrakech on this street almost all serve a big range of grilled meats along with starters and sides. Some have a more Middle Eastern feel than Moroccan. But, overall they are packed full of Moroccans with few visitors in site. You pick and select what you want. Feel free to include more as you go. You can also get specialties like grilled sheep heart and liver which may not be for every person but they do it well.
18) Snack Othman
Expect huge crowds nearly every morning for breakfast but if you come early your chances of grabbing one of the perfect seat is excellent. The menu here is truly easy. You can order the beldi breakfast which is fresh batbout bread with above condiments; argan oil, honey, and amalou as well as olives. You can also get khlii with eggs. Khlii is tasty and famous dried meat that is packed in fat and then melted down along with boil eggs. It is something that you should try. To drink pick from Moroccan tea of Moroccan smoothie with your option of seasonal fruit.
19) Cafe 16 and Restaurant
Placed in the Marrakech Plaza, between Gueleiz and Djema al Fna is Cafe 16. I like this cafe because it provides simple foods that lack standard elsewhere. My favorite items are their salads that remind me of salads in the America. Lots of toppings and lettuce plus best dressings. The menu changes seasonally. They are open for dinner, lunch and breakfast.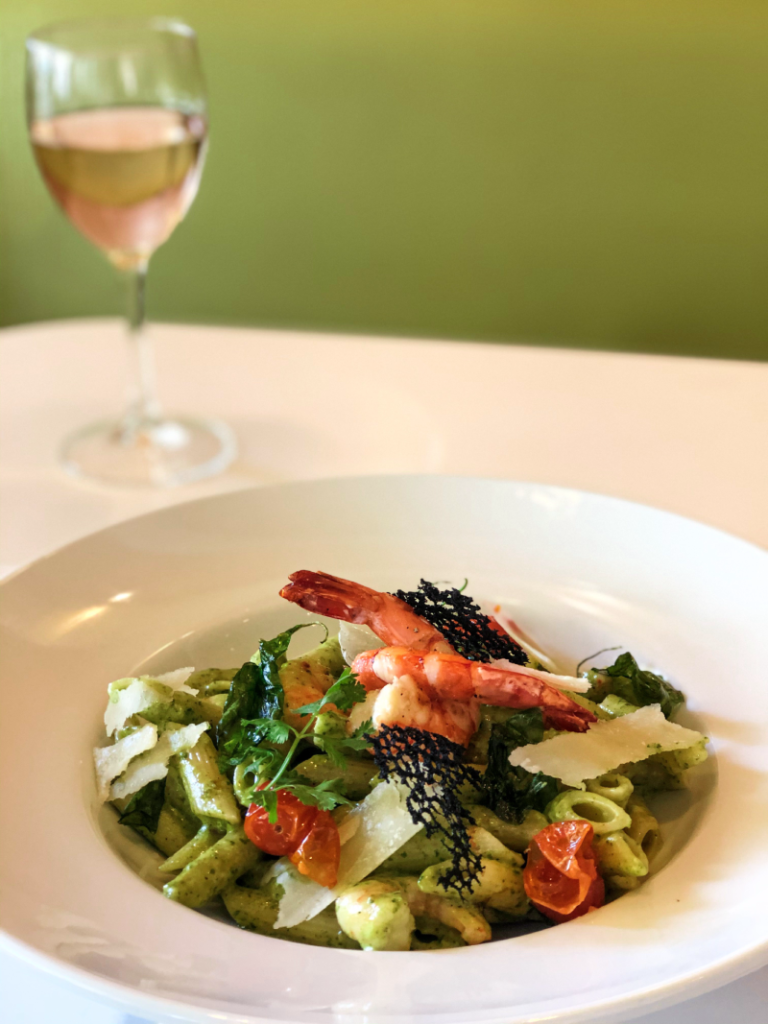 20) Dar Moha
House in a very old riad-style building, Dar Moha sits beside the palace Dar el Bacha, once the house of the pasha of Marrakech. The historical neighborhood makes chef Moha Fedal new approach to Moroccan cuisine extra shocking. While his artistic work may not satisfy purists, Fedal incorporates Andalusian influences to generate something special. Do not skip the salad course, composed of fourteen rotating salads made with cooked with raw seasonal ingredients. Gathered with a few hot appetizers, the salad are sufficient to constitute a light meal, but if you would like a heartier main, the prawns and sea bass in chermoula are tasty.
Discover more bars, fun activities, things to do and best restaurants in Marrakech, Morocco.