Best Tourist Attractions in Marrakesh
Marrakech was an imperial city and remains the most popular city that tourists visit in the Maghreb. The city is home to elegant palaces, gardens and beautiful mosques; in addition to the famous souk market and the well-known Jemaa el-Fna square. With quite a lot of things to see and do both in the modern and the medieval parts of town, Marrakech is a fascinating city.
Explore the best things to do in Marrakech that every tourist must visit:
1. Jardin Majorelle
This is another popular place to visit in Morocco. The Jardin Majorelle was created by Jacques Majorelle, the French painter who spent close to forty years in putting his creativity and passion into this incredible garden. Having over 300 types of fabulous plants, with charming little lanes, tranquil streams, and magical trees, Jardin Majorelle is the perfect place for persons who want to get away from the bustling city and experience the Moorish and Art Deco influences in a tranquil location.
Photo: Courtesy Of  de.wikipedia.org/wiki/Jardin_Majorelle#/media/Datei:Jardin_Majorelle.jpg
2. Visit a Hammam
Though it seems a bit off to visitors from the West, a visit to the local bath-house (hammam) entails stripping down and a lot of naked bodies, though there is a separation between males and females. Usually, a masseur who is also naked will give you an intense scrub down, which will be without doubt the most thorough washing you've ever had. Always remember to go along with soap, shampoo, and towels and be cautious when picking a location, as tourists usually overpay for this service. The usual price for natives is between fifty and hundreds of dirhams.
Photo: Courtesy Of Le Bain Bleu
3. Koutoubia Mosque
Due to its significance to Moroccan people, the Koutoubia Mosque which is no doubt the largest mosque in Marrakech, is a vital tourist attraction for tourists visiting the area. The mosque in addition to being a spiritual center is also a reference point for universal architecture. The beautiful 12th-century minaret structure which set the trend for buildings in Rabat and Spain is a true illustration of the expertise of Moorish ornamental skill: with rigid proportions and characterful arches, it's a marvelous example of architecture.
4. Traditional Riads
Riads are concealed treasures that can be found in the narrow streets that make up the old part of town. Those visiting Marrakech should make sure they spend a night in a remarkable Riad. For example, in Dar Hanane, where visitors are conveyed from the busy medina streets to a house of tranquility and relaxation. With a roof terrace and exquisite in-suite bedrooms with scenic views of Marrakech, this is a typical example of the spectacular Riads in the city.
Photo: Courtesy Of  en.wikipedia.org/wiki/Moroccan_riad#/media/File:Riad_Chbanate_-_Essaouira_-_Maroc-_Maroko_-_%CE%9C%CE%B1%CF%81%CF%8C%CE%BA%CE%BF_-_Fas_-_Marruecos_-_Marokko_-_%D0%9C%D0%B0%D1%80%D0%BE%D0%BA%D0%BA%D0%BE_-_Photo_Image_Photography_(9126328208).jpg
5. Saadian Tombs
The Saadian tombs were built to serve as the final burial place of the members and rulers of the Saadi dynasty. The Saadian tombs, having been closed for centuries, were rediscovered in the year 1917. Superbly decorated with Arabic calligraphy, intricate carvings and bright tiles, the tombs built by Ahmed al-Mansour ed-Dhabi, the Saadian Sultan was spared no amount of expense, making it a stunning site for tourists. The tombs which are easily reachable, are to be found just on the outside of Marrakech, where it is a fantastic substitute to the busy city. Well preserved and carefully restored, the tombs are now among the most popular things to do in Marrakech and you shouldn't miss while in Marrakech.
Photo: Courtesy Of Person-with-No Name / Flickr
6. The Tanneries
Located northeast of the medina, the tanneries are certain not to be overlooked. With many invitations from the locals and overwhelming smell, the tanneries can be found quite easily. It is the perfect place to watch the making of most of the treasures and souvenirs that are found in the marketplace of the old medina. Most items ranging from dresses to bags are manufactured here and tourists can watch the natives as they dye the material by hand to prepare them for sale in the city. Practically an outdoor exhibition indicating a substitute for contemporary factories, the tanneries are a truly fascinating place to visit.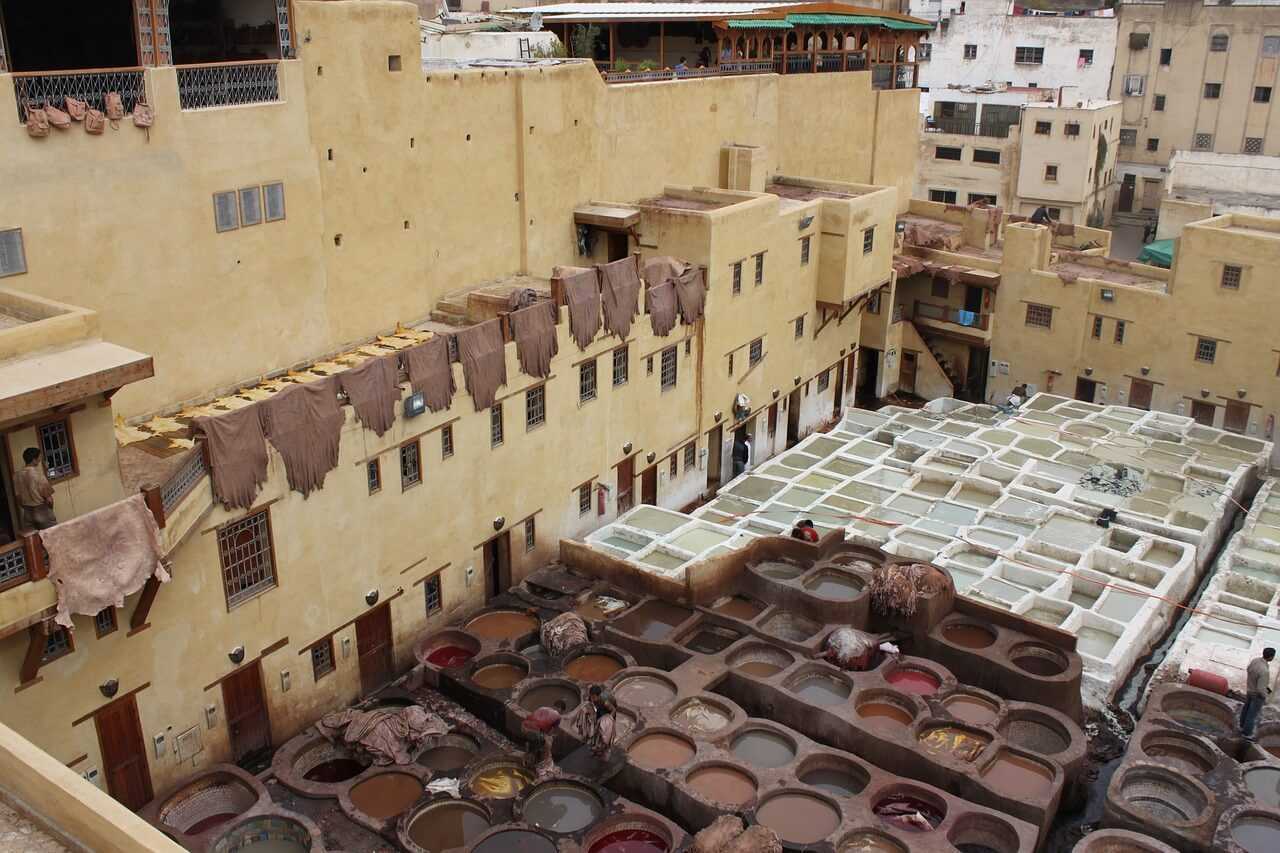 7. Museum
Marrakech is filled with little charming museums, which include the Moroccan Arts Museum in Dar si Said which showcases wonderful Riad architecture and native products from the local craftsmen. The Musée de Marrakech displays embroidery, contemporary art, and weapons. For a historical view of the city, Maison de la Photgraphie is the place to visit, and to see an art deco home with an assortment of decorative Moroccan artworks, go to Jardin Majorelle. In the modern part of town, tourists can find numerous art galleries showing artworks by the local talent, the famous Musée Yves Saint Laurent and the new Museum of African Contemporary Art Al Maade.
Photo: Courtesy Of Museum of African Contemporary Art Al Maaden
8. Old Medina Souks
On a visit to any city in Morocco, a stopover at the charming souks must be on the itinerary and Marrakech is certainly no exception. Considered as the most magical and exotic city in the country, it boasts of a full medina with numerous treasures, ranging from ceramics to bags, and typically winding souks. Whether you're in the market for handicrafts, literature, food, whatsoever, there's an alleyway and street for it. Tourists usually get lost for long periods meandering through the maze of tantalizing streets. So relax, discover, and explore some of the locally produced treasures.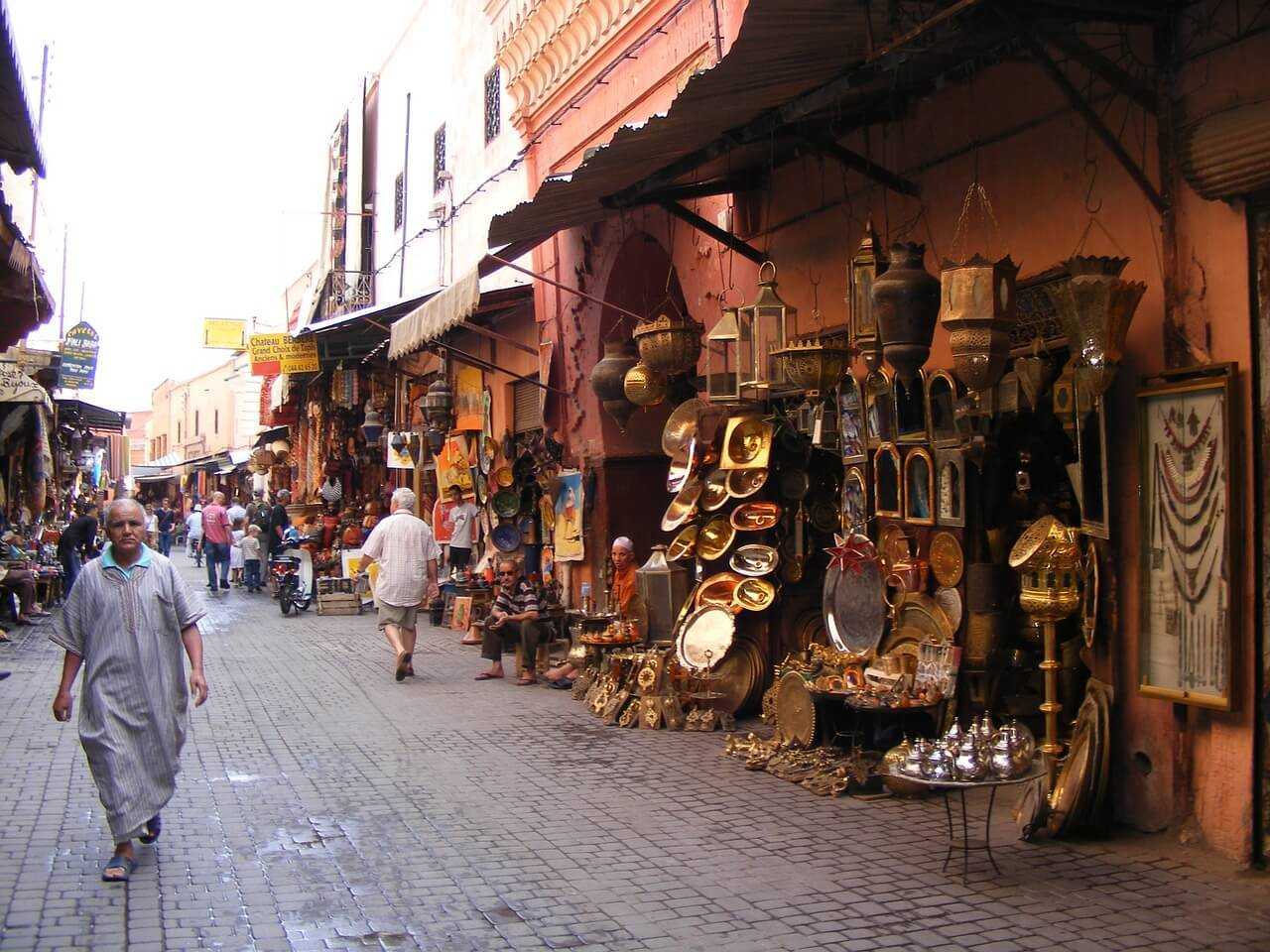 9. Ben Youssef Madrasa
Madrasas, which stands for schools, can be found standing in Morocco as historic symbols to the education of bygone periods. This specific Quranic school, which was formerly the largest in Northern Africa, was committed to the instruction of Islamic law and has been around since the fourteenth century. Tourists can explore the hundred little windowless chambers for students and appreciate the medieval architecture, going from the ornately adorned prayer halls to the great courtyard. After virtually 6 centuries, this primeval madrasa still retains a lot of appeals and remains one of the most important things to do in Marrakech.
10. Jemaa El Fna Square
Djemaa el Fna is placed in the exotic city of Marrakech and is famous to locals as the heart of the city. It is a part of Marrakech that presents an ever replacing character with the rising of the sun and well into the night. It is a cultural mix of scents, color, sound, and sight and one of the liveliest and best things to do in Morocco. Tourists and visitors should not miss the chance to spend time in Djemaa el Fna, not only by day but also at night.
Djemaa el Fna in Marrakech is a place that has been the big square in the city for decades. It is not just a visitor attraction since many domestics also enjoy the activities that make Djemaa el Fna come alive. During the day, the square has different stalls, most of which sell water, fruit juice and fruit.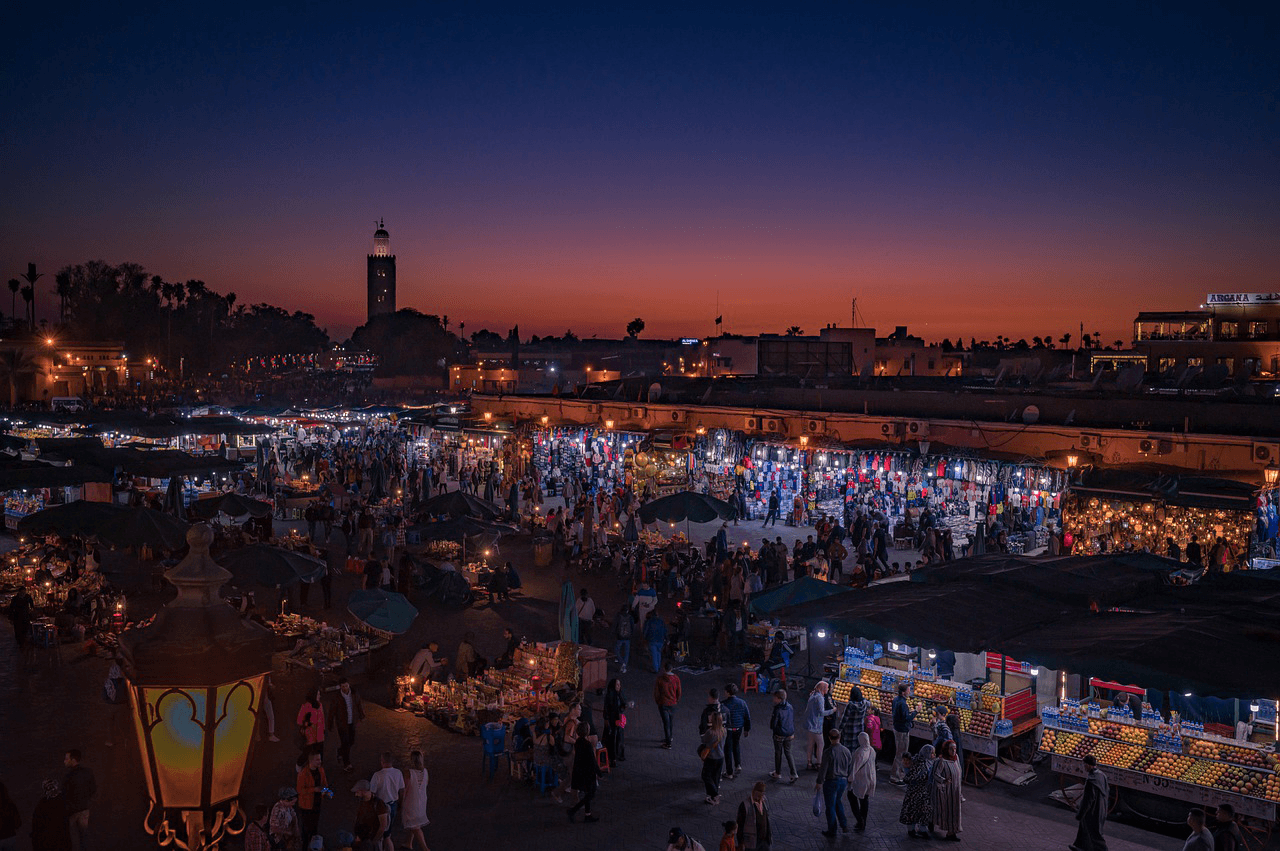 11. Souks
On On a tour to any Moroccan city, the captivating souks are a must on the agenda. Marrakech is no exception. Labeled one of the most magical cities in the Marrakech, Marrakech boasts a full media with very old winding souks and countless treasures. Whether you are looking for handicrafts, literature, or food, there is a street and an alleyway for everything. Tourists can get lost for hours in the labyrinth of enticing streets. So relax, enjoy and discover some locally made treasures.
12. Calèches rides
Caleches in Marrakech are horse-drawn carriages that provide a special way to enjoy the Marrakech medina. Caleche is the French word for "horse-drawn carriage," and in Marrakech, the carriages are generally referred to as caleches even in English.
There are many locations around the city of Marrakech where you will view rows of caleches waiting for customers – two of the busier departure/arrival points are in front of the Koutoubia Mosque at the entrance to the key square of Djemaa el Fna, and just outside the Majorelle Garden.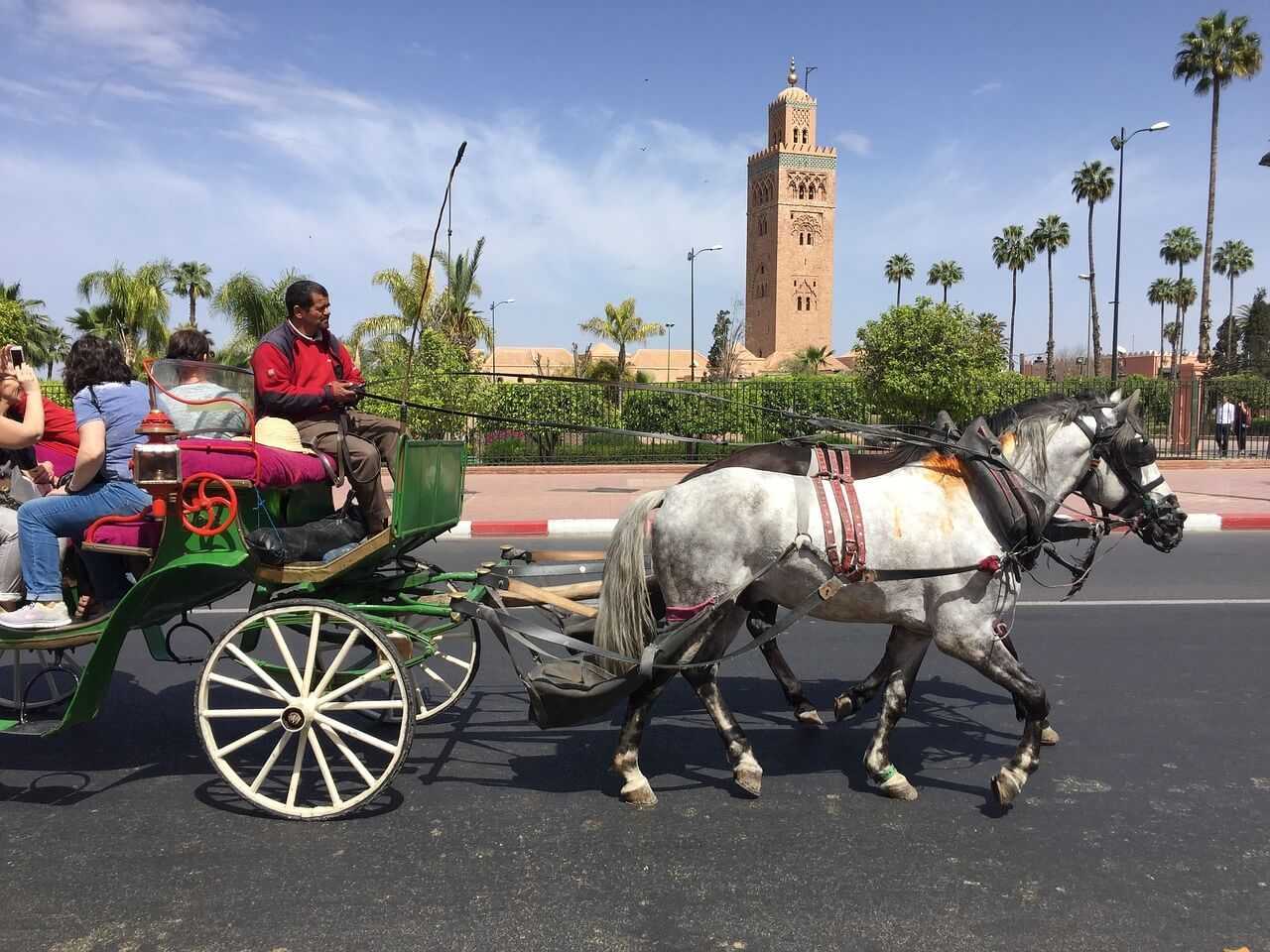 13. Bahia Palace
If you want to find the Bahia Palace, you must visit Marrakesh and the best things to do in Marrakech. The amazing fact is that nobody knows when it was built. There is only detail that it was open in 1900. The Bahia Palace is not one huge building. It is a set of different houses. It was built by 2 architectures. They were son and father. So, it was a family project which was continued for 6 years. One part of the Bahia Palace is the little Riyadh. In substance, it is the garden. But it has different niches and rooms. And this one of the popular tourist attraction has the little courtyard. To this country, you can go out via 4 various rooms. These rooms have ceiling and walls of marble. There were the private apartments for Ba Hmad. It is remarkable and very high. Its length is approximately fifty meters. Around it is placed in the gallery. Just imagine how charming this sight is. The celling of the gallery is painted with different colors and it has huge wooden columns.
14. Marrakech railway station
Yes, a railway station specs in the list of best things to do in Marrakech, but only because it is the stupendous Marrakech Railway station. Built-in 2008. The location should be a part of your itinerary even if you are not traveling anywhere by train.
Featuring a varied big range of shops and restaurants, the Marrakech Railway Station is a hangout place itself. The beauty of the station also lies in its amazing architecture, especially its notable entry gateway.
Photo: Courtesy Of JialiangGao www.peace-on-earth.org / commons.wikimedia.org/wiki/File:Interior_Marrakech_Railway_Station.jpg#/media/File:Interior_Marrakech_Railway_Station.jpg
15. La Mamounia hotel
Marrakech is also a remarkable place to enjoy luxurious and decadent experiences without breaking the bank. Many hotels in Marrakech offer day passes to visitors to use their facilities and one of the very best hotels to do this at is the excellent La Mamounia hotel. Visitors can buy day passes and spend the day as guests of the hotel.
While a stay at the hotel overnight is more than €499, visiting La Mamounia as a day guest offers visitors the chance to experience easily one of the most opulent hotels in the planet.
Photo: Courtesy Of La Mamounia Palace Hotel – Marrakech
16. Le Comptoir Darna belly dancing
This restaurant has been a famous institution on Marrakech nights since 1999. At Le Comptoir Darna, Moroccan and worldwide gourmet cuisine are woven in the right harmony. Discover a show every night with choreographed belly dancers, DJs, and musicians in a charming setting.
Advised as the best spot for a tasty dinner and even excellent fun, Le Comptoir Darna is the restaurant to visit in Marrakech. Described as a location where celebrities frequent, and a fashion warm spot, the lighting, decoration, and dancers convinced me it was a wonderful fusion of Soho London and Arabian Nights.
Photo: Courtesy Of Comptoir Darna
17. Atlas mountains
Packed with snow all through the winter months and cloaked with wildflowers through the summer, the rocky plateaus and green valleys of Morocco's Atlas mountains offer a remarkable backdrop for hiking and mountain biking treks, as well as cultural visits to Morocco's remaining Berber tribes. The big mountain range is split into 3 main areas: the centrally placed High Atlas, remote Anti Atlas and the Middle Atlas to the north. Easily reached from Marrakech and the best thing to do in Marrakech, the High Atlas range draws many visitors, with hotels clustered around famous spots like Imlil, Ouirgane, and Quirka Valley.
18. Walk the Ramparts
In the Kasbah region, you will find the best views of the 12th-century city walls or ramparts which stretches approximately twelve miles around the city of Medina, and much of this old wall remains. The city of Marrakesh gets its nickname the "Orchre City" or "Red City" from the color of these walls which are made of from pise, a reddish-pink clay. The walls were built to offer protection for the inhabitants, and actually, there are many guard towers and about twenty gates that provided entrance via these walls. Several of the gates remain many guests make a point to seek out some of the more decorated gates, called as babs. The twelve century Bab Agnaou entrance to the Kasbah is usually considered the most amazing entrance of all medina rampart entrances.
19. Stay in a Riad
A special type of guesthouse in Marrakech Morocco, a stay at a Raid is the number 1 way to experience this amazing city. Placed in the medina and built for multi-generational families, find the right Raid to stay in and you can look forward to a life of luxury with plunge pools, rooftop gardens, and most wonderful views.
20. Try orange juice
Morocco's oranges are popular worldwide, so it is no shock that you can find some of the top orange juice on the streets of Marrakech. They are sourced from the limitless orange trees in the city's courtyards and limitless alleys. You can get a complete glass of this tangy, refreshing juice, best for recovering after a long day exploring in the sun. it is a must while in the broad El Fna Square to keep you going while you keep wandering.
21. See Marrakech from the above
Another thing you might keep in mind if you have more than a couple of days in the city is to view Marrakech and the neighboring areas from a warm air balloon. A warm air balloon ride will provide you a special birds-eye view of the city as well as the neighboring groves, desert, and Atlas mountains. Most balloon trips include snacks, drinks before the ride and then a meal afterward and no doubt the best thing to do in Marrakech.
Tickets for the top things to do in Marrakech and cheapest flights can already be purchased online before departure.